| | | |
| --- | --- | --- |
| | | |
| | Click on image to buy from Amazon.com | |

Passive Solar Architecture: Heating, Cooling, Ventilation, Daylighting and More Using Natural Flows by David Bainbridge and Ken Haggard, 2011. New buildings can be designed to be solar oriented, naturally heated and cooled, naturally lit and ventilated, and made with renewable, sustainable materials - no matter the location or climate. Bainbridge and Haggard draw upon examples from their own experiences, as well as those of others, of more than three decades to offer both overarching principles as well as the details and formulas needed to successfully design a more comfortable, healthy, and secure place in which to live, laugh, dance, and be comfortable. Even if the power goes off. Passive Solar Architecture also discusses "greener" and more-sustainable building materials and how to use them, and explores the historical roots of green design that have made possible buildings that produce more energy and other resources than they use. Fully illustrated with many diagrams and photographs, Passive Solar Architecture is an invaluable resource to anyone who wants to undertake a sustainable building project, from planning and design, to building, remodeling, and operating the completed building. You can read a more complete review of this book by Kelly Hart.


| | | |
| --- | --- | --- |
| | | |
| | Click on image to buy from Amazon.com | |

Solar Home Heating Basics: A Green Energy Guide by Dan Chiras, 2012. As fossil fuel supplies dwindle, home heating will be one of the major challenges in temperate and cold climates in upcoming years. The reserves of natural gas used to heat the majority of North American buildings are rapidly being depleted. This latest Green Energy Guide helps readers who want to slash their energy bills and reduce their dependence on scarce resources to navigate the sometimes confusing maze of clean, reliable, and affordable options. Solar Home Heating Basics focuses on renewable energy strategies to heat new and existing homes and small businesses. These include: Energy efficiency, weatherization, and insulation; Solar hot air heating; Solar thermal systems; Passive solar heating; Backup heating systems While most solar home heating resources are geared primarily towards new buildings, this practical guide addresses ways of retrofitting existing buildings, making solar a reality for many people. Packed with all the essential information home and small business owners need to find alternatives to conventional heating solutions, Solar Home Heating Basics is your key to a personal energy solution.

| | | |
| --- | --- | --- |
| | | |
| | Click on image to buy from Amazon.com | |

Toward a Zero Energy Home: A Complete Guide to Energy Self-Sufficiency at Home by David Johnson, Scott Gibson, 2010. A Zero Energy Home (ZEH) - a home that produces as much energy as it consumes - is an idea whose time has come! Authors David Johnston and Scott Gibson ( Green from the Ground Up ) explore the design and construction of self-sufficient houses from start to finish. They make the case for a ZEH; cite climate and geographic challenges; describe exactly how to go about building an energy-efficient home; and feature ten houses that were built for zero energy living. With unequaled knowledge and a passion for the subject, the authors walk readers through the process of building and living in a truly green home.


| | | |
| --- | --- | --- |
| | | |
| | Click on image to buy from Amazon.com | |

Building a Passive Solar House: My Experience Shared...by Tracey Allen, 2012. This book outlines the experience of building a passive solar house from start to finish by the building owners. Included in the book are ideas to help renovate existing homes to capture passive solar gain. Where possible installation instructions and/or costs are provided. There are a number of pictures showing construction including architect's design development drawings. (Robert Haggis, ECC Architecture and Design).

| | | |
| --- | --- | --- |
| | | |
| | Click on image to buy from Amazon.com | |

Energy Saving and Storage in Residential Buildings edited by Alicja Siuta-olcha and Tomasz Cholewa, 2012. The residential sector consumes a vast amount of energy. This situation has resulted in an increased interest by the scientific community in the subject of energy saving. In the present work, the authors examine the characteristics of some newer systems and options for energy savings in residential buildings. Sources for optimally heating buildings, energy systems distribution, thermal energy storage systems, control systems among other improvements and operations, which may help to reduce energy consumption in the residential sector, are discussed. The possibilities of use of heat pumps in technical systems, passive solar heating and water heating in domestic hot-water systems are also outlined. Special attention is paid to the problem of energy storage in energy systems.

THE LANGUAGE OF SOLAR ENERGY: Heat Loss & Solar Gain for Buildings by Paul Shippee, 2000. All the basic concepts and methods clearly illustrated for designing a solar heated residence. Exercises and illustrations included to help you understand and get a working knowledge so you can design your own solar heated building. Learn how to think simply about seemingly complicated topics like heat transfer, load calculation methods, thermal storage, sun angles, solar radiation, climate, etc. Written for owner-builders and professionals alike.
TABLE OF CONTENTS:
The Language of Energy -Definitions -Units -Quality of Energy -Temperature and Heat -Efficiency -Net Energy -Conversion of Energy Units
Heat Transfer Fundamentals -Conduction -Convection -Radiation
Heating Load Application -Heat Loss Calculation -Dynamics of Insulation
Solar Radiation I -Sun Angles -Insolation Values
Solar Radiation II -Climate Data -Availability of Solar Energy


| | | |
| --- | --- | --- |
| | | |
| | Click on image to buy from Amazon.com | |

Passive Solar House: The Complete Guide to Heating and Cooling Your Home by James Kachadorian, 2006. For the past ten years The Passive Solar House has offered proven techniques for building homes that heat and cool themselves, using readily available materials and methods familiar to all building contractors and many do-it-yourself homeowners. True to this innovative, straightforward approach, the new edition of this best-selling guide includes CSOL passive solar design software, making it easier than ever to heat your home with the power of the sun. Since The Passive Solar House was first published, passive solar construction expert James Kachadorian has perfected user-friendly, PC-compatible software to supplement the design process explained in the book by allowing homeowners/designers to enter the specifications of their design and see how changing a variable will affect its energy efficiency. This is the building book for a world of climbing energy costs. Applicable to diverse regions, climates, budgets, and styles of architecture, Kachadorian's techniques translate the essentials of timeless solar design into practical wisdom for today's solar builders. Profiles of successful passive solar design, construction, and retrofit projects from readers of the first edition provide inspiration to first-time homebuilders and renovators alike.

| | | |
| --- | --- | --- |
| | | |
| | Click on image to buy from Amazon.com | |

Sun-inspired House: Ideas And House Plans Using the Sun to Brighten And Warm Your Home by Debra Rucker Coleman, 2005. This bok provides a unique combination of passive solar information and house plans designed to use the sun to maximum efficiency. The information is educational while the designs are inspirational. The elegant yet functional homes capture the non-polluting heat and wonderful light of the sun in a wide range of warm and welcoming styles. Blueprints are available for most of the designs. Debra Rucker Coleman, Architect and President of Sun Plans, Inc. has designed passive solar homes since 1985. Some of her work has been featured in Fine Homebuilding, Solar Today, and Home Energy. Coleman has lived in hot, moderate, and cold climates, but currently resides in Alabama, in a sun-tempered home for which she was both the architect and general contractor.

| | | |
| --- | --- | --- |
| | | |
| | Click on image to buy from Amazon.com | |

Going Solar: Understanding And Using The Warmth In Sunlight by Tomm Stanley, 2005. By distilling thousands of years of history and knowledge into one book, Tomm Stanley brings together the work of pioneering solar designers, some of the greatest scientists that the world has known and a range of modern, practical applications for hands-on people to create a delicious brew of thought provoking, solar thermal discussion. Enthusiastically coaxing readers through the essential concepts at work in fields of study as diverse as history, geography, nuclear physics, thermodynamics and astronomy, Going Solar reveals the "how's" and "why's" behind the solar heating phenomenon. When the subject matter turns to a study of devices that use solar heat, readers have a firm grasp of the natural forces at work and an appreciation of how the technology might be applied in their own lives.

| | | |
| --- | --- | --- |
| | | |
| | Click on image to buy from Amazon.com | |

Hot Dirt, Cool Straw by Nora Richter Greer, Dennis Wedlick, James Grayson Trulove, 2001. Ecologically designed homes have come a long way since the '60s, when the focus was largely on energy efficiency. Hot Dirt Cool Straw features 25 case studies of beautiful homes designed by leading architects who marry good design with minimal environmental impact. Many of these unique, fabulous houses have walls built with straw or earth, materials which are sturdy and allow the homes to cool and heat themselves naturally. This remarkable reference also features eco-friendly homes made of wood that has been salvaged from previous uses or comes from environmentally sensitive lumberyards. Each case study includes dazzling photography, as well as carefully detailed plans, drawings, and schematics.

| | | |
| --- | --- | --- |
| | | |
| | Click on image to buy from Amazon.com | |

Passive Solar Simplified: Easily design a truly green home for Colorado and the West by Thomas Doerr, 2012.This book is just what you need to know to design a passive solar home―no unnecessary information or complicated formulas. You will learn everything you need to save over 80% of your heating and cooling bills, improve your health, and tread more lightly on the planet.Most know that passive solar can be used to heat a house, but it can do more. Passive solar can also be used to cool, light, and ventilate a home. A passive solar home will save you money and ensure your family's comfort. It can do all this without burning fossil fuels or causing nuclear waste. This book is just what you need to know about designing a truly green home for Colorado and the surrounding states, presented clearly and concisely.

| | | |
| --- | --- | --- |
| | | |
| | Click on image to buy from Amazon.com | |

Make Solar and Geothermal Work For You: Harness the Sun and Earth to Power Your Lifestyle by Dr. Simon P. Marlow, 2012. Solar Energy Combined with Geothermal Energy Efficiency. This book and guide will lead you through the complete process of identifying, evaluating and purchasing both solar energy and geothermal power. You will be shown how combining the two sources of clean energy will provide the best return on investment. Once you understand the investment proposition you then need to identify reputable solar and geothermal companies. With a quality installation next it's time to reap the benefits of your investment. Learning the process of registering your system and grading your SRECs becomes essential to maintaining your Return on investment. This guide takes you step by step through the entire process with examples to illustrate each step of the process.

| | | |
| --- | --- | --- |
| | | |
| | Click on image to buy from Amazon.com | |

Home Sweet Zero Energy Home: What It Takes to Develop Great Homes that Won't Cost Anything to Heat, Cool or Light Up, Without Going Broke or Crazy by

Barry Rehfeld, 2012. Zero energy homes produce at least as much energy as they consume through a combination of energy efficiencies, passive design, and renewable energy production. California has adopted zero net energy as the new residential standard for 2020; many other governments are considering similar policies. Developing zero energy homes is the first step towards making all buildings zero energy—a critical step in mitigating climate change, since buildings account for forty percent of material and energy use worldwide. The author identifies all the pieces of the zero energy puzzle and how they fall into place, and explains how homeowners and buyers can also take smaller steps towards sharply reducing the energy use of existing buildings.

| | | |
| --- | --- | --- |
| | | |
| | Click on image to buy from Amazon.com | |

The Simply Solar House: Green Building on a Budget by Richard and Yoko Crume, 2007. This desribes a practical approach to designing a highly energy efficient house using common construction materials and practices. Drawing upon their experience building a solar house in central North Carolina, the authors describe the key features of energy efficient home design in simple and easy to understand language.

| | | |
| --- | --- | --- |
| | | |
| | Click on image to buy from Amazon.com | |

Solar Water Heating: A Comprehensive Guide to Solar Water And Space Heating Systems by Bob Ramlow, Benjamin Nusz, 2006. This book reviews the history of solar water & space heating systems from prehistory to the present, then presents the basics of solar water heating, including an introduction to modern solar energy systems, energy conservation and energy economics. Drawing on the author's experience as an installer of these systems, the book goes on to cover: Types of solar collectors, solar water and space heating systems and solar pool heating systems, including their advantages and disadvantages; System components, their installation, operation, and maintenance; System sizing and siting; Choosing the appropriate system. The book focuses especially on the financial aspects of solar water or space heating systems, clearly showing that such systems can save significant costs in the long run.

| | | |
| --- | --- | --- |
| | | |
| | Click on image to buy from Amazon.com | |

Heating or Cooling Your Building Naturally: Solar Architectural Solutions by Virginia B. Macdonald, 2006. Through an initial explanation of her principles and ten case studies, the author relates how vertical ventilation and controlled daylighting--to the exclusion of air-conditioning and daytime electric lighting--can be applied. The author explains in simple language, with photos and diagrams, how to use the sun to cool or warm a building as needed, while at the same time reducing mildew, dust, and many pathogens. The premise is simple and has been used throughout the ages in all cultures and climates: hot air rises. That's the starting point for all the ideas and designs contained in this book, taking advantage of the natural vertical flow of air to regulate the temperature of enclosed spaces. Likewise, the documented health benefits of controlled daylighting are well-known, and the projects here described make ample use of skylights (with spectrally-selective glazing) in addition to windows, so that electric lighting is seldom needed during the day.

| | | |
| --- | --- | --- |
| | | |
| | Click on image to buy from Amazon.com | |

Stay Cool: A Design Guide for the Built Environment in Hot Climates by Holger Koch-Nielsen, 2002. In hot dry or warm humid countries, more than half of the urban peak load of energy consumption is used to satisfy air-conditioning demands alone. Since the urbanization rate in developing countries is extreme, the pressure placed on energy resources to satisfy the future requirements of the built environment will be great, unless new, more cost-effective measures can be introduced. Stay Cool is an essential guide for planning and design using active design principles and passive means to satisfy human comfort requirements specifically in these climate zones, based on examples of traditional and modern constructions. The book demonstrates how a design strategy for urban environments and individual buildings, incorporating naturally occurring resources and specific energy-efficient technologies, can create a location, form and structure that promotes significant energy savings. Such strategies can equally be applied to low cost housing, or indeed to any other buildings, in order to improve comfort with passive means and low energy budgets.

| | | |
| --- | --- | --- |
| | | |
| | Click on image to buy from Amazon.com | |

The Passive Solar Energy Book: A Complete Guide to Passive Solar Home, Greenhouse and Building Design by Edward Mazria, 1979. Even though this book would seem to be dated by its publication date, I still consider it to be one of the best all-round guides to passive solar design, whether for home or greenhouse or both. I often refer to my tattered copy of this book when I want to know what the experts think.

| | | |
| --- | --- | --- |
| | | |
| | Click on image to buy from Amazon.com | |

How to Incorporate Natural Passive Heating and Cooling in your Home by Dan Martin, 2010. Kindle Edition. Natural heating and cooling, ironically today is only considered an "alternative" to costly and complicated refrigeration cooling and fuel based heating by the mainstream society. However by incorporating some form of natural techniques into your new or existing building, you can eliminate or reduce the use and cost of mechanical cooling/heating and all of the hassle/harm that goes with it all together. How can I cool AND heat my home with nature? In many natural and passive methods, it's not necessary to install separate heating and cooling systems, ducts, piping, etc. In order to save on costs, labor and time, often you can utilize the same natural system for both heating and cooling. Or better yet, if you already have a preexisting heating and/or cooling system, you may even be able to integrate it into your new natural system, saving even more money.

| | | |
| --- | --- | --- |
| | | |
| | Click on image to buy from Amazon.com | |

Natural Ventilation of Buildings: Theory, Measurement and Design by David Etheridge, 2012. Natural ventilation is considered a prerequisite for sustainable buildings and is therefore in line with current trends in the construction industry. The design of naturally ventilated buildings is more difficult and carries greater risk than those that are mechanically ventilated. A successful result relies increasingly on a good understanding of the abilities and limitations of the theoretical and experimental procedures that are used for design. There are two ways to naturally ventilate a building: wind driven ventilation and stack ventilation. The majority of buildings employing natural ventilation rely primarily on wind driven ventilation, but the most efficient design should implement both types. Natural Ventilation of Buildings: Theory, Measurement and Design comprehensively explains the fundamentals of the theory and measurement of natural ventilation, as well as the current state of knowledge and how this can be applied to design. The book also describes the theoretical and experimental techniques to the practical problems faced by designers.

| | | |
| --- | --- | --- |
| | | |
| | Click on image to buy from Amazon.com | |

The Passivhaus Handbook: A Practical Guide to Constructing and Refurbishing Buildings for Ultra-Low-Energy Performance by

Janet Cotterell and Adam Dadeby, 2012.

The Passivhaus Handbook

is an essential guide for everyone wanting to realize a supremely comfortable, healthy and durable home with exceptionally low energy costs. Whether you are building an extension, renovating your house or starting from scratch; and are new to low-energy design or already have some experience, this book will help you navigate the potential pitfalls and misconceptions. It brings together current thinking and best practices.Passivhaus design focuses first on getting the building fabric right, to achieve ultra-low energy consumption in the most cost-effective manner. The approach is relevant to a wide range of building types and climates, not just to special structures. Passivhaus methodology can be combined with elements of other building standards, such as the UK's Code for Sustainable Homes, or with other goals, such as a commitment to use low-impact and natural building materials.

Advances In Passive Cooling
by Mat Santamouris, 2007

| | | |
| --- | --- | --- |
| | | |
| | Click on image to buy from Amazon.com | |

How to Build and Benefit from a Passive Solar Collector as a Space Heater
by Ralph W. Ritchie,

| | | |
| --- | --- | --- |
| | | |
| | Click on image to buy from Amazon.com | |

Build Your Own Solar Heating System
by Kenneth Clive, 2007

| | | |
| --- | --- | --- |
| | | |
| | Click on image to buy from Amazon.com | |

Solar Heating Systems for Houses: A Design Handbook for Solar Combisystems
by Werner Weiss, 2004

| | | |
| --- | --- | --- |
| | | |
| | Click on image to buy from Amazon.com | |

Heating, Cooling, Lighting: Sustainable Design Methods for Architects
by Norbert Lechner, 2008

| | | |
| --- | --- | --- |
| | | |
| | Click on image to buy from Amazon.com | |

In Detail: Solar Architecture
by Christian Schittich, 2003

| | | |
| --- | --- | --- |
| | | |
| | Click on image to buy from Amazon.com | |


Solar Power in Building Design
by Peter Gevorkian, 2007

| | | |
| --- | --- | --- |
| | | |
| | Click on image to buy from Amazon.com | |

The New Solar Home
by Stephen Snyder, Dave Bonta, 2009

| | | |
| --- | --- | --- |
| | | |
| | Click on image to buy from Amazon.com | |
PLANS
Chez Soleil Paul Breaux, Designer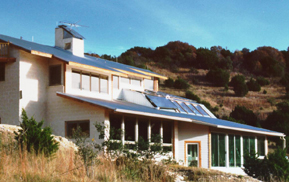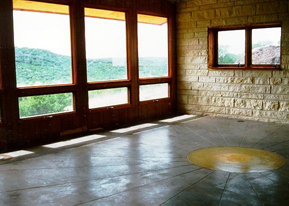 This is a 3 bedroom, 2 story, 3000 sf house, with attached garage. The design goals were to build a resource efficient, off-the-grid solar home, with no connected public utilities other than a phone line, and to use the home to generate performance data that would document how well the home's design and materials performed to keep the house cool in summer and warm in winter. According to Paul Breaux, a physicist, Chez Soleil performs much better than he expected. The home's temperature is comfortable year round, there is little home maintenance and operating expense, and the many people who tour the home can see and feel the benefits of "green" construction.Very little artificial lighting is needed during the day; natural light is plentiful on both the first and second floors due to window placement and open floor design. Chez Soleil has been written up in several publications including Environmental Design & Construction, the Austin American-Statesman, Southern Living, Mother Earth News, and Solar Today. Chez Soleil was selected by the American Solar Energy Society for the society's solar home tours, and was featured at the 23rd National Passive Solar Conference.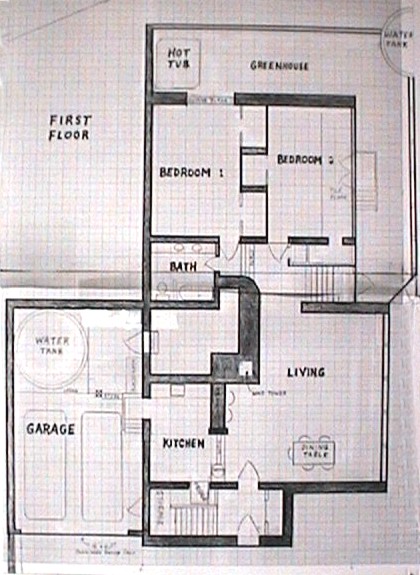 The house was primarily designed for southern exposure to maximize passive solar gain and the efficiency of rooftop solar collectors for electricity. The dining room, living room, and kitchen are incorporated into one open space to give as much utility as possible, and help the home maintain a comfortable and even internal temperature year around. An "attached sunspace" on the east and part of the south sides of the house is an integral part of what makes the house work so well. It provides solar heating during winter, and 700 square feet of growing room. It is a "buffer zone" during warm weather, as large overhangs shade the direct sun out.
The lower part of the foundation is not insulated; it is coupled to the warmer subsoil, which stays at about 70 degrees all year. This system allows the home's thick thermal mass walls to dissipate heat during the summer, and absorb and retain heat when it is cool. The system helps maintain a relatively consistent indoor year around temperature without the need to use a nonrenewable energy source. The main concern was to balance heat gain during the winter with heat dissipation during the summer. Subsoil temperature fluctuations on this particular site were determined, and used to determine how deep the foundation's insulation should go on each side of the house.
Stored solar heat is released from the water containers as needed. Heat flows naturally by low temperature radiation and by warm air convection to the north side of the house, thus balancing comfort zones throughout the living space.
For more information about this plan, and many others, visit our sister site www.dreamgreenhomes.com, where you will find a wide range of plans for sustainable homes, greenhouses, small buildings, garages, and food storage space for sale. Dream Green Homes is a consortium of outstanding architects and designers, who have pooled their talent and expertise for your benefit.
GENERAL
greenhouse.gov.au this extensive on-line manual describes many aspects of passive solar design from site selection to evaluating performance...a great introduction to the topic!
kahl.net/solarch shareware electronic primer on passive solar architecture.
consumerenergycenter.com good overview of passive solar concepts.
New Mexico Solar Energy Association description of passive solar concepts.
squ1.com this ecologically oriented architectural software company has assembled a huge array of related information.
passivehouseandhome.com This company in the UK and Ireland has an informative site that explains passive solar concepts.
ONLINE TOOLS
susdesign.com has some wonderful online tools for calculating proper window overhang design and heat gain for passive solar.
susdesign.com free software to calculate sunangles from specified locations and times.
archi-tech-software.com offers free downloadable software for tools to reduce utility bills by targeting the most effective energy conservation projects.
aud.ucla.edu a free software analysis of the energy equation of your house.
sustainabilityleader.org is a free on-line PDF Lab Manual intended to accompany the book Passive Solar Architecture by David Bainbridge and Ken Haggard.
INCENTIVES
greenerbuildings.com Outlines Energy Tax Credits available from the U.S. Federal Government.
PASSIVE ANNUAL HEAT STORAGE
norishouse.com describes how a PAHS house can keep an underground house comfortable year round with no additional heat source.
earthshelters has information and plans for a passive solar heat storage (PAHS) system and is related to the above link.
greenershelter.com a description of Don Stephens' Annualized Geo-Solar Design as compared to the"Passive Annual Heat Storage" (PAHS) concept...using the surrounding earth to store summer heat for winter use.
SOLAR HOT AIR
solarmaxheatinginc.com a description of a commercial active solar hot air heating system from Canada.
mobilehomerepair.com describes how to make a simple and inexpensive solar air heater.
gravitygarden.com links to a PDF file about how to make a simple, free-standing passive solar heater.
GEOTHERMAL
Seabird Island Project shows unique design for the solar heating of water and space through warm air collection and geothermal heat tubes.
SHADES
sailshadeyourhome.com simple Roman shades that are insulated with R-7 Reflectix.
Instructions for how to make your own Roman Sailshade without the need to sew the fabric.