We are OM Shanti Eco-Farm Retreat, an eco village promoting sustainable, holistic and harmonious living. One of our objectives is to feature natural building methods of various kinds. I was wondering whether you'd be interested in featuring some of your natural building methods on-site. Since we have a large acreage, we'd be flexible to start with 3 different types of homes or so, depending on the budget - such as earthbag, superadobe, treehouse, possibly earthship, etc. At this time, we can offer camping grounds and possibly an RV. There are two nice hotels in walking distance. Lake Placid, FL is a quaint yet touristy area. Let me know if you're interested and when you're free. Also, feel free to introduce yourselves. We are available to Skype, if you'd like.

Tatiana
larochetAThotmail.com
404-606-2896
www.omshantifarm.org
1/16
I am looking for a qualified Superadobe builder or team who has a serious interest in helping me turn project into a home I can move into. In order to get an occupancy permit from the Las Vegas Building Department, I must have a kitchen, a full bathroom, and 120 additional square feet of living space. In addition, I must have all exteriors, a 2-4 foot tall front fence, and final grading finished. I would like to utilize as much as I can of what has already been built. I am willing to change any of the originally designed & unproven passive systems for energy efficient conventional systems if it will be more cost effective. I am reaching out to the worldwide Superadobe community for proposals and bids to do this. I need a person or team with proven experience in managing & completing a multiple dome build with plumbing & electric.
See www.openarmsdomes.com for more infornmation.
1/16
I have a project to create 100% sustainable remote field research stations that I'm running on Indiegogo. I think it's a good campaign and I want to do something important with my life. Adam John Adam Barwood jbarwoodATgmail.com The project on Indiegogo: http://igg.me/at/BiowanderProject
10/15
BetR-blok is a "green" building block made from recycled paper and other cellulose materials, which serve as a substitute for lumber – hence our slogan "Building Homes by Saving Trees." Saving trees is one of the most important goals of our company, but building great-looking, energy-efficient homes is just as important. Here is a kick starter campaign to help fund the automation of the manufacture of these blocks.
10/15
Tiny House, Big Living Now Casting on HGTV
Tiny House, Big Living, HGTV's newest hit series, is looking for couples, families and singles (w/sidekicks) who are leaving behind their conventional lives to build and live in a tiny house! We are seeking people who are just beginning or have recently begun building their tiny house project! The series is looking for enthusiastic, fun-loving folks who are open to sharing their downsizing adventure with HGTV and their audience!
We will spotlight builders and DIYers who are customizing their homes to fit their unique personalities--from custom furniture to custom layouts--making the most of downsizing their living space! We want tiny homes that stand out! Are you using all salvaged materials? Are you hiring a professional architect or designing as you go? Tell us your story. Whether you're building a tiny house to nuke the mortgage, travel the country or minimize your carbon footprint, however you (and your tiny house) roll….we'd love to hear from you! Production begins late summer/fall of 2015.
For more information please contact: thbl.orionentertainment.com
9/15
OFF THE GRID BUILDS – CASTING CALL!

Are you a fun couple or family building your one of a kind, rural or off the grid dream home?
Tricon Films & Television is searching for groups, couples or families (ages 30-50) who want to build a unique, rural or off the grid home in the next few months, to be featured on a major US television show. We're looking for big personalities who are not shy in front of the camera and are just starting their rugged and one of a kind home construction in locations in Hawaii. The more remote, the better! Selected participants will receive significant contributions towards their build including material and labor discounts. If you think you're a good fit for this show, CONTACT US NOW! Please send us pictures of you and your group, bios and information on your upcoming project.
CONTACT US BEFORE OCTOBER 10, 2015 AT: castingATtriconfilms.com
9/15
Help me finish my dream! I have spent the last 7 years dreaming of building an earthbag dome in the tropics, and at last that dream is finally here. The project is located on the island of Hawaii (Big Island) and is a 12ft diameter dome of earthbag construction adapted to my area's rainforest climate by using scoria-crete fill. I have spent 28 days working on the project with at least one helper and the dome is now 2/3rds done. Trying to complete the project has helped me realize that we all need to work together if we want to see more earthbag structures built - it just becomes too hard when we try to do it all alone.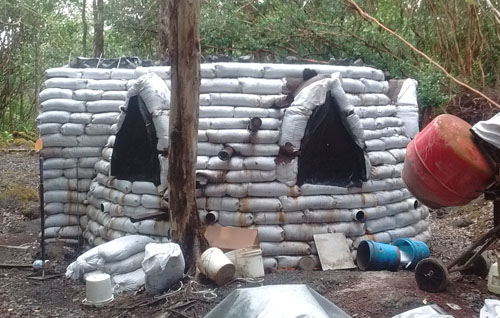 With that in mind, I am inviting any help-minded, get-r-done individuals or those who are interested in informal hands-on learning to bring their enthusiasm and effort towards the completion of a dream and another earthbag on the map. Let's stop dreaming about it and actually get something done! LOL Then I can start on my next earthbag project...

You would be volunteering your time in exchange for the same primitive camping conditions that I have enjoyed for the last 13 months. A typical work day would be 2-4 hours (weather permitting) leaving you plenty of time to enjoy the surroundings or explore the island. Desired timeframe would be September 24th - October 15th, however that is flexible and there will be future projects. Bring a friend if you like...

Those interested can contact Jeff Walker at jfrywalkerATgmail.com All types of help welcome, all types of questions welcomed. Let's work together and change the world (or at least help one 'homeless man' stop living in a tent, and start living it a dome!) Mahalo!
9/15
My name is Joey and I'm a producer for the HISTORY CHANNEL. Right now I'm on a search to develop a show about people that live off the grid, primitively, and I would love to connect with you if you are such a person. Joey Gemelli, Casting Director, Primitive People (HISTORY), (O) 323.430.5767 (C) 631.704.0217 JoeyATgemellient.com
9/15
My partner and I are on new life path. We moved to Peru.We got a magical place in higher Selva and we are planning to build with all the natural material around us! Cob, kincha (reeds, mud building), bamboo, etc. We don't have much experience and the local people only know one way, so we are looking for help! Volunteers who have bit of knowledge about this building, even students who like to practice their skills on our project. We can't offer payments but we can offer a beautiful place to play with natural materials, some healing work etc. Here is our website: www.medicineoflight.org and we can be contacted at medicineoflightATgmail.com
Miska Mindakova
8/15
Intern Wanted at Organic Farm
Do you want to learn to milk a goat, ferment sauerkraut, save garden seeds, slaughter a chicken, prune an orchard, mix and apply clay plaster, make cheese, harvest produce for market, install drip irrigation, make tortillas from home-grown corn, graft fruit trees, pour a foundation, use a walk-behind tractor, and cook a delicious meal in an earthen oven? Spreadwing Farm in the Capay Valley (Yolo County, California) is looking for one more intern. We are a small organic farm and homestead being developed by Cathy Suematsu, Michael G. Smith, their 4-year-old son and 2-year-old daughter. Our goal is to provide a healthy, balanced, and inspirational home environment for our family and visitors, while eventually generating enough on-farm income to meet our financial needs. A lot of our energy goes into food production and preparation and caring for our children, with farm infrastructure, permaculture and natural building projects fitting in whenever possible. We recently completed an earthen pizza oven, composting toilet, and a major expansion of our fruit orchard. Projects planned for the near future include a solar fruit dryer, a grey water system, a solar shower, and a new straw bale packing shed and walk-in cooler, starting with the restoration of a century-old water tower. We'd like to share our decades of experience with others who are excited to learn these skills. We provide amazing organic food, beautiful surroundings, a small cabin or tent site, and endless learning opportunities in exchange for about 40 hours a week of your help. Some experience is helpful, but the most important qualifications are enthusiasm, compatible personalities, and a desire to learn and to work hard. We prefer interns who can commit to between six and twelve months, but we can sometimes take people for shorter time periods. For more info please email michaelATemeraldearth.org or cathyATemeraldearth.org.
We are looking for people living 'off grid' lifestyles in remote areas for a new HGTV series called House Hunters International: Off the Grid. We are looking for people who have moved within the last couple of years. The original show, 'House Hunters International' is a half-hour TV show currently airing on the Home and Garden Television Network (HGTV) in America and the Travel Channel in the UK. The series is designed to de-mystify the international home-buying process, by going behind the scenes of a house hunt where expats and their real estate agents tour 3 homes. At its core, House Hunters International is a travel show concentrating on the idiosyncrasies of the locales and what makes them special and different. Here is a link to show you what our show is all about! https://vimeo.com/75803046 We are looking for adventurous couples and families who have recently bought or rented properties in weird and wonderful places both in the US and internationally. Ideally they should be outgoing and fun. michelle.jamesATleopardfilms.com www.leopardusa.com, https://www.facebook.com/leopardusa https://twitter.com/leopardusa
12/14
My name is Rafael. I am 21 years old, from Portugal, where I graduated from Biology in the University of Lisbon one year ago. Since then I have been travelling and volunteering, and I discovered a huge passion for natural construction. I have been researching places to spend the next year working hands on with projects of natural construction. I have the will, some experience, and creativity. I can send you more information, and would appreciate knowing if you need help anywhere on the world :) raphaelhythAThotmail.com
11/14
SEEKING REMOTE BUILDERS FOR OFF THE GRID ROCKY MOUNTAIN BUILD T.V. SHOW Orion Entertainment is now casting remote builders from the Rocky Mountain region for a new "building off the grid" show. We'll follow each step of the process of building a remote mountain cabin from the challenges of getting materials to the remote site (by horse, ATV or helicopter, etc.), dealing with unpredictable weather and wildlife, and taking on the geographical obstacles of the build site itself. We'll see the highs and lows of each build as our builder/contractors work against the clock during the abbreviated build season the snowy Rocky Mountain region demands. Behind the remote mountain cabins are the intrepid builders who represent the toughness and tenacity that is the hallmark to living off the grid. The ability to adapt, improvise, and persevere in the face of remarkable challenges will make all viewers appreciate what it takes to own a hunting or fishing getaway in the middle of nowhere. If you have an extreme, remote, Rocky Mountain build, we want to hear from you! Please contact Kelly McLear at 720-259-1547 as soon as possible as casting for builders is going on now. Please send the following information to: kmclearATorionentertainment.com Please provide us with the following information: NAME: BRIEF BIO & WEBSITE: PLEASE SEND A PHOTO OF YOURSELF AND CREW: LOCATION OF BUILD: TYPE OF STRUCTURE/DESIGN OF HOUSE/STYLE (log cabin, a frame, hunting cabin, square footage, stories, etc): HOW MANY CREW MEMBERS ON THE BUILD AT ANY GIVEN TIME? (Please provide names if available, jobs/duties, and brief bio if possible – how do they all work together as a crew?) MAJOR HURDLES OF THE BUILD? (Weather, terrain, remoteness, supplies, have to live out at the site for X amount of weeks, animals, etc): TRANSPORTATION EXPECTATIONS OF MATERIALS AND CREW? (helicopters, big trucks, snowmachines, horses, ATVs) WHO ARE THE OWNERS OF THE HOME AND WHAT ARE THEIR EXPECTATIONS? WHAT IS YOUR WORKING RELATIONSHIP WITH THEM? BUDGET FOR THE BUILD? ANY ADDITIONAL FEATURES FOR THE HOME? (Sauna, green energy, boat dock?) SPECIALTY SUB-CONTRACTORS YOU'LL HAVE TO BRING IN? (Plumbing, electrical, roofers, etc?): ADDITIONAL INFORMATION ON THE BUILD?
10/14
Casting Notice: A major network is looking for people that have recently started living off the grid. Please email your name, phone number, location, a paragraph of why you decided to start living off the grid along with some family photos and photos of your home to andrewhechtcastingATgmail.com
7/14
Who learns skills for free? Interns who assist aid organizations. Learn and serve in the US only or here and overseas as well. Build Simple Inc. offers free training in construction and design of geo-textile buildings like earthbag and straw wattle or techniques like Ubuntu-blox that use agricultural waste or plastic trash.
Two weeks of training near Albuquerque, NM is being scheduled for early July, with repeat dates in September. Help BSI to advance building knowledge about alternative techniques while you learn. Builders, photographers, building designers, and service team leaders can all contribute needed skills. Engineers and engineering students are especially needed to test structures- ask about donating a day or getting involved in an ongoing study.
After training, go to your aid project, or connect with one of BSI's partners. Interns are needed to spend a few weeks to a few months working with aid organizations in Haiti, Thailand, or other parts of the world. Tell simple_earth what aid groups you're working with and when, to see how we can help you.
Patti Stouter
Build Simple Inc.
www.BuildSimple.org
Sustainable Inexpensive Building Design, Training and Testing
12 Juniper Road, Placitas NM 87043
ph: 505-312-7163
simple_earthATyahoo.com
5/14
I want to provide highly efficient homes equipped with solar power, water filtration, and small scale self sustaining farming practices to anyone I can with a low quality of living. I plan to do this through donations of both manpower/supplies and money. I want to lead a movement to make a difference in the lives of those who can't control the circumstances of their current economic status. www.gofundme.com is the website I'm using currently to manage donations. It has my mission statement along with my Facebook information to show that yes, I am a real person, yes, I'm just a regular guy that is truly trying to make a difference, and no I'm not trying to make a quick buck. I'm planning on this taking years to come to fruition and any help you could offer would be extremely appreciated. Thank you, Mike Shores.
5/14
Team member/volunteers wanted! We are building domes around the world for eco villages - and resorts, disaster relief projects and individuals. Can offer both internship/apprenticeship programs and volunteers are very welcome. For more information, visit our website at www.evolotecture.com.
4/14
Hello, my name is Adam Trnka. I'm new in Denver, Colorado. I would like to dedicate my time here to creative work, gain inspiration and learn new things. I studied graphic design, but now I mainly focused on natural building, interior design and diverse creations. I mainly work with clay plaster, insulation of the house using straw bales and interior reconstruction. I would like to cooperate with you as a craftsman who enjoys physical work. I would like to meet people around natural building and become part of team as a craftsman. But I don t have tools or a car yet, so I'm grateful for any job that comes along.
tykrabeATseznam.cz
My name is Dalia Dayan and I am in my fifties. I don't have anybody who can build an earthbag house for me. I believe that this is the most reliable house in any aspect. I am looking for builders (asap) to build a medium size earthbag house following one of the architectural plans that you provide on your sites. This house is to be built around Ithaca NY. Contact: dayandaliaATyahoo.com
9/15

Disclaimer Of Liability And Warranty
I specifically disclaim any warranty, either expressed or implied, concerning the information on these pages. Neither I nor any of the advisor/consultants associated with this site will have liability for loss, damage, or injury, resulting from the use of any information found on this, or any other page at this site. Kelly Hart, Hartworks, Inc.
For Email contact go to About Us
Established in 2001, GreenHomeBuilding.com is primarily a labor of love. Kelly, and the GreenHomeBuilding team of experts, have answered thousands of questions for readers over the years, and we continue to publish up-to-date information about increasingly important sustainable architecture. If you feel moved to assist us in this work, your kind donation would be much appreciated; this can be easily done through our PayPal account:
Custom Search