| | | |
| --- | --- | --- |
| | | |
| | Click on image to buy from Amazon.com | |
Irish Stone Walls: History, Building, Conservation byPatrick McAfee, 2012. A unique history and 'how to' book on one of Ireland's most distinctive landscape features - the stone wall. The Irish countryside is a patchwork of over 250,000 miles of stone wall. Built from local stone according to the style of each region - dry stone in the West and the Mourne mountains or mortar elsewhere - these walls are an intrinsic part of the landscape. This unique guide by expert stone mason Pat McAfee covers the history of this ancient tradition, giving illustrated examples and step-by-step instructions on constructing, conserving and repairing stone walls of all types - whether dry stone or mortar. It includes: history of stone in Ireland, how to build dry stone and mortar walls, basic and more advanced techniques, dos and don'ts of repair work, and appropriate conservation methods.
| | | |
| --- | --- | --- |
| | | |
| | Click on image to buy from Amazon.com | |
Masonry: The DIY Guide to Working with Concrete, Brick, Block, and Stone by John Kelsey, 2012. Masonry provides clear, accessible instructions that readers can use to do popular masonry projects the right way themselves. This book shows how to design, build and repair masonry like an expert, with the latest techniques and materials, step-by-step directions, safety advice, and hundreds of color illustrations. Readers will learn the methods that professional masons use to construct walls, sidewalks, patios, barbeques and more. Basic techniques are described for working with mortar, making repairs to brick, mending concrete, attaching fastening, and removing stains. This well-illustrated book reveals the secrets of working with rugged materials, with advice on selecting bricks, salvaging stone, breaking up masonry, and erecting scaffolding. Readers will discover the best way to pave a path, build a wall, or veneer a concrete slab with tile. Building instructions are included for concrete block, natural stone, decorative brick, serpentine walls, and brick and stone arches.
| | | |
| --- | --- | --- |
| | | |
| | Click on image to buy from Amazon.com | |
Living Homes: Stone Masonry, Log, and Strawbale Construction; Building Your High-Efficiency Dream Home on a Shoestring Budget, by Thomas J. Elpel, 2010. Originally published in 1998, this is the sixth edition. This hefty book (250 pages, 8.5" X 11") is chock full of detailed information, personal musings, photos and diagrams, and practical tips. Thomas Elpel is a do-it-yourselfer after my own heart, and what he has compiled here chronicles his adventures of building his own home in rural Montana as well as experiences with other building projects. He and his wife were forced by circumstances to find inexpensive solutions for all of the challenges of building their home, and they managed to do this without sacrificing their commitment to energy efficiency and sustainability. To read my complete review see this page.
| | | |
| --- | --- | --- |
| | | |
| | Click on image to buy from Amazon.com | |
Stone Designs for the Home by John Morris, 2008. Featuring stunning color photography, Stone Designs for the Home explores the work of one of the finest stonemasons practicing today, John T. Morris, who employs the traditional art form of hand-chiseled masonry. Journey through eight properties where Morris's exceptional work abounds while exploring his approach, thought processes, and philosophy behind the stunning art he creates in stone. Filled with a variety of native stones in exterior and interior projects, Stone Artistry for the Home Focuses on utilizing raw stone, masonry, and environmental elements.
| | | |
| --- | --- | --- |
| | | |
| | Click on image to buy from Amazon.com | |
In the Company of Stone: The Art of the Stone Wall by Dan Snow, 2007. Dan Snow builds stone walls without benefit of mortar or other binding material. This ancient dry-stone method is experiencing a revival, and Snow's In the Company of Stone is full of moody photos of recent landscape projects, some of which look as if they'd been part of the scenery for centuries. Snow's poetic commentary and a helpful appendix of design detail make for an inspiring, informative book.
| | | |
| --- | --- | --- |
| | | |
| | Click on image to buy from Amazon.com | |
Art of The Stonemason by Ian Cramb, 2006. Drawing on five generations of family tradition as stonemasons in his native Scotland, Ian Cramb created this masterful work to pass on his knowledge and experience to craftsmen who wish to learn the ancient, but still necessary, principles of the stonemason's art. Beginning with a detailed discussion of building with "random rubble", which is the name for the early Celtic art of building with irregular stones bedded on mortar, the author proceeds to more complex projects such as fireplaces, stairs, arches, bridges and more. There is extensive treatment of various restoration techniques involved with historic structures both in the US and Britain, some as old as 1000 years. In additon the author covers various types of stone, stone-cutting, etc. as well as using tradional mortar mixes, which have demonstrated their utility in stone walls and buildings which have lasted for many centuries.
| | | |
| --- | --- | --- |
| | | |
| | Click on image to buy from Amazon.com | |
Stone House: A Guide to Self-Building With Slipforms
by Tomm Stanley, 2004. You won't need to be an expert stone mason, or even have much construction experience, to build your own house with one of the world's most traditional building materials-- stone. Stone House contains all the information you'll need to successfully build a stone home for yourself, from clearing the building site to topping the stone walls for roof framing. While providing a wealth of information on a range of relevant subjects, Tomm Stanley uses an instructional narrative to lead readers through the process of building with stone and slipforms. This is the first book dedicated to slipform stone masonry in many years. Topics include: *Traditional Stonemasonry and slipforming *Basic geology and where to source suitable homes *Passive solar principles *Concrete making and techniques for molding and casting concrete *Methods for restoring wooden windows and doors.
| | | |
| --- | --- | --- |
| | | |
| | Click on image to buy from Amazon.com | |
Material Stone by Christoph Mäckler, 2003. Principally used in façades, but also for interior design, natural stone is now being appreciated for its high-quality performance. This publication examines the use of stone in contemporary architecture. In thematic chapters, it presents the state of the art uses together with information on the extraction and treatment of stone. The emphasis of the book is laid on the many different kinds of natural stone, which come from a wide range of countries. A comprehensive appendix contains illustrations of some 70 kinds of natural stone, all of which are concisely documented, ensuring that this volume can be used as a reference for anybody interested in natural stone as a building material.

| | | |
| --- | --- | --- |
| | | |
| | Click on image to buy from Amazon.com | |
The Art & Craft of Stonework: Dry-Stacking, Mortaring, Paving, Carving, Gardenscaping by David Reed, 2003. Build for the ages with stone, a material that not only endures, but that actually becomes more beautiful with time. Whether you're constructing a wall, redesigning a garden, or adding paving, your structure will blend in naturally with its surroundings. As you accomplish a range of projects using dry-laid and mortared techniques, as well as decorative ones like carving, you'll find out how versatile working with stone is and that you can use fewer and simpler tools than with any other material and achieve spectacular results. You'll be surprised and pleased with the spectacular results you can achieve with a few simple tools and the natural beauty of stone.
| | | |
| --- | --- | --- |
| | | |
| | Click on image to buy from Amazon.com | |
The Granite Kiss: Traditions and Techniques of Building New England Stone Walls by Kevin Gardner, 2001. In this elegant, literate primer, a master stonemason imparts the fundamentals of building traditional New England dry stone walls, along with thoughts on the history, aesthetics, and philosophy of the craft of placing stone. Author Kevin Gardner defines "the granite kiss" as "that instantly discouraging, and inevitable, experience in stone work when a fingertip or two fails to escape the contact point between two large stones on the occasion of their first meeting." In this eminently readable primer on the fundamentals of placing stone, Gardner distills 25 years of experience in building and repairing New England-style dry stone walls into clear, step-by-step instructions. Along the way, Gardner considers the history, aesthetics, and philosophy of placing stone in a book that will bring as much pleasure to armchair craftsmen as it does valuable instruction to the beginning wall builder.
| | | |
| --- | --- | --- |
| | | |
| | Click on image to buy from Amazon.com | |
Stone Circles: A Modern Builders Guide to the Megalithic Revival by Robert L. Roy, 1999. Ever had an irresistible urge to stand a dozen seven-ton stones upright in a circle? If so, this fascinating how-to book could make your dream come true. Robert Roy is a man obsessed with megaliths--structures and monuments constructed of large, often unhewn stones. From the gorgeous cover photo of a stone circle in New South Wales, Australia, to the extensive closing glossary of terms, he's packed Stone Circles with all you'll ever need to gain the inspiration to create a megalithic structure. You'll also find the instructions and know-how to carry your plans to fruition. In journal format, he takes you through dozens of construction experiences step by step, well-documented with photos and diagrams. Even if you have no intention of circling up, his tour of famous stones circles and their histories is well worth the read.
| | | |
| --- | --- | --- |
| | | |
| | Click on image to buy from Amazon.com | |
Architectural Stone: Fabrication, Installation, and Selection by Mark A. Chacon, 1999. Topics covered include: Fabrication Quarrying and fabrication of limestone, sandstone, marble, and granite from blocks; quarrying and fabrication of foliated stone deposits, such as slate and quartzite; special stone fabrications; production of finishes and textures Installation Sand bed installations; mortar bed installations for floor applications; thinset installations; adhered veneer; anchored veneer; stone integrated curtain wall systems and precast concrete panel systems; mortars, setting materials, and grout systems; installation master specifications; selection criteria and practical considerations; professional testing standards and classification systems; special considerations for interior and exterior use of stone; informal testing and practical analysis; availability of stone; suitability of the stone for the intended application Architectural Stone is the one-stop reference for state-of-the-art information on these ancient yet quintessentially modern building materials.
| | | |
| --- | --- | --- |
| | | |
| | Click on image to buy from Amazon.com | |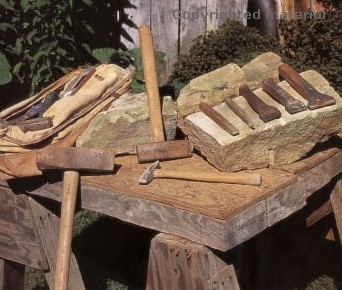 The Art and Craft of Stonescapping: Setting and Stacking Stone by David Reed, 1998 If you desire stone walls, paths and waterfalls in your garden, then this book is for you. Reed writes in a simple, straightforward style that is easy to follow and the accompanying photos are excellent. Also covered are chapters on making courtyards, steps, terraces, benches, etc.
| | | |
| --- | --- | --- |
| | | |
| | Click on image to buy from Amazon.com | |
The Stonebuilder's Primer: A Step-By-Step Guide for Owner-Builders by Charles K. Long, 1998. More than 20 years ago, the author and his wife fled city life and conventional employment for the country, and have flourished there ever since. This book is a highly readable account of the couple's successful effort to build "a house that will outlast anything made of wood." Developing a compromise method of stone construction that is both simpler and truer to the stonemason's art than the popular slipform method, the Longs built an aesthetically satisfying home of stone on a limited budget and no previous construction experience. In this classic how-to book, the author describes the complete building process in clear, easy-to-follow steps and, in so doing, dispels the myth of difficulty that surrounds stone construction.
| | | |
| --- | --- | --- |
| | | |
| | Click on image to buy from Amazon.com | |
Basic Masonry Techniques by Douglas Rossi, 1997. This excellent guide shows how to build walls, fountations, walkways, patios, steps, and retaining walls with brick, stone (such as flagstone) cement blocks, and fieldstones. Shows how to build forms for footings, foundations, sidewalks, a basketball court, plus estimating cement amounts needed and how to mix cement mortars for the job, curing concrete properly. Shows how to lay bricks in patterns, a rubblestone wall; tools and materials needed, offers tips and suggestions. Color photos throughout.
| | | |
| --- | --- | --- |
| | | |
| | Click on image to buy from Amazon.com | |
Stonework: Techniques and Projects by Charles McRaven, 1997. A guide to the basics of stonework that concentrates on the most common projects: retaining walls, stone fences, foundations and steps, and then adds a bit more for the adventuresome: a fireplace, an arched bridge and a moon gate. A good book for the do-it-yourselfer or to learn what to look for in working with a professional stone mason.
| | | |
| --- | --- | --- |
| | | |
| | Click on image to buy from the Producer | |
Stone rising: the Work of Dan Snow, DVD or VHS, by Camilla Rockwell, 1 hr. Enter into Dan's creative process and learn about the aesthetic and practical aspects of walling with dry stone. Through humorous and insightful interviews with Dan, his patrons and associates, discover the dramatic possibilities of gardening and landscaping with natural stone. Grottos and waterfalls, a stone boat, a beehive tomb, ancient-looking fortifications, even a Moorish style stone tent! Offering intimate explorations of Dan's constructions, STONE RISING presents one man's devotion to the work, mystery and endless surprise of his craft.