| | | |
| --- | --- | --- |
| | | |
| | Click on image to buy from Amazon.com | |

Green Roofs: A Guide to their Design and Installation

by Angela Youngman, 2012. Environmentally friendly buildings are a must for the future, and among the many new ideas for buildings are green roofs—but what exactly is a green roof, and how do they work? Why are individuals and businesses installing them, and how difficult is it to install and maintain a green roof? This guide introduces the range of green roofs available, from the small garden shed to towering skyscrapers; discusses the role of the green roof as part of an overall greening of a building and landscape; advises on types of vegetation to be grown, maintenance required, and problems that can be encountered; analyzes the green roof movement; and describes residential and business case studies from across the world. With contributions from builders, architects, and gardeners, this is not a self-help manual, as most green roofs will need a string of professionals, but a guide to the process of designing and installing a green roof.

| | | |
| --- | --- | --- |
| | | |
| | Click on image to buy from Amazon.com | |

Passive Solar Architecture: Heating, Cooling, Ventilation, Daylighting and More Using Natural Flows by David Bainbridge and Ken Haggard, 2011. New buildings can be designed to be solar oriented, naturally heated and cooled, naturally lit and ventilated, and made with renewable, sustainable materials - no matter the location or climate. Bainbridge and Haggard draw upon examples from their own experiences, as well as those of others, of more than three decades to offer both overarching principles as well as the details and formulas needed to successfully design a more comfortable, healthy, and secure place in which to live, laugh, dance, and be comfortable. Even if the power goes off. Passive Solar Architecture also discusses "greener" and more-sustainable building materials and how to use them, and explores the historical roots of green design that have made possible buildings that produce more energy and other resources than they use. Fully illustrated with many diagrams and photographs, Passive Solar Architecture is an invaluable resource to anyone who wants to undertake a sustainable building project, from planning and design, to building, remodeling, and operating the completed building. You can read a more complete review of this book by Kelly Hart.


| | | |
| --- | --- | --- |
| | | |
| | Click on image to buy from Amazon.com | |

Small Green Roofs: Low-Tech Options for Greener Living by Edmund C. Snodgrass, Nigel Dunnett, Dusty Gedge, John Little, 2011. In this book the authors profile ordinary homeowners who scaled green roofs down to the domestic level. More than forty profiles of small and domestic-scale projects of all shapes and sizes include green roofs on sheds, garden offices, studios, garages, houses, bicycle sheds, and other small structures, as well as several community projects. For each project, details are given for design, construction, and installation, as well as how-to tips on how the roof was planted and cared for. For readers looking for inspiration when hiring a contractor or taking the adventurous step of building their own, Small Green Roofs provides the knowledge and encouragement to make it possible.

| | | |
| --- | --- | --- |
| | | |
| | Click on image to buy from Amazon.com | |

Australian Earth-Covered & Green Roof Buildings

by S. Baggs, J. Baggs, D. Baggs, 2005 (includes DVD-ROM). Dr Sydney Baggs was and David Baggs is one of Australia's leading authorities in earth covered and green roof building design and construction. As architects to nearly 40 earth covered and green roof buildings including residences, schools and museum they pioneered this work in Australia from 1979 to current time holding the first International Conference on Earth Covered Buildings in Sydney Australia in 1981. With numerous awards, magazine and television features the pair created a high profile for earth covered and green roof buildings during this period. While Sydney passed away in 2009, David continues designing, promoting and consulting in this specialist field to green buildings of all kinds.

| | | |
| --- | --- | --- |
| | | |
| | Click on image to buy from Amazon.com | |

The Green Roof Manual: A Professional Guide to Design, Installation, and Maintenance by Edmund C. Snodgrass, Linda McIntyre, 2010. This book provides an overview of practices and techniques that have been effective in North America. The authors offer options regarding structure, function, horticulture, and logistics, as well as surveys of actual projects and analyses of why they have or haven't succeeded. Approachable and reader-friendly, the manual clearly explains how these complex systems function and how to plan and carry out projects successfully from concept through construction and maintenance. Ideally suited to professionals (including architects, landscape architects, engineers, and designers) and their clients, it brings together key lessons from leaders in the field. Numerous photographs highlight the range of design possibilities and show green roofs both during construction and at various stages of maturity.

| | | |
| --- | --- | --- |
| | | |
| | Click on image to buy from Amazon.com | |

Award Winning Green Roof Designs by Steven Peck, 2008. Over 100 beautiful, informative photos display the green roofs technology that is quickly becoming a fundamental element of the emerging practice of living architecture. The award-winning roof designs displayed and described, for private homes, businesses, and public spaces alike, integrate natural and artificial systems, resulting in healthier, more sustainable buildings and communities. Green roofs have the capacity to deliver multiple public and private benefits. The projects depicted and discussed cover a wide geographic range from Manitoba to Florida, stretching from the mid-Atlantic coast to the Pacific. The projects are almost exclusively the product of multi-disciplinary, collaborative design processes. Details about the plants used, growing media, drainage and irrigation systems, and waterproofing, along with descriptions of challenges overcome, and innovations developed, are provided.

| | | |
| --- | --- | --- |
| | | |
| | Click on image to buy from Amazon.com | |

Green Roof Systems : A Guide to the Planning, Design and Construction of Building Over Structure by Susan Weiler, Katrin Scholz-Barth, 2009. This book goes beyond the fashionable green roof movement and provides solid information on building accessible space, often as important public space, over structure. It offers brief coverage of the entire process, including planning and collaboration, and focuses on the technical aspects of these roof systems, their components, and their applications.

| | | |
| --- | --- | --- |
| | | |
| | Click on image to buy from Amazon.com | |

ClimateSkin: Building-skin Concepts that Can Do More with Less Energy by Gerhard Hausladen, Michael de Saldanha, and Petra Liedl, 2008. The facade plays a critical role in the conception of energy- and climate-optimized buildings: it is the building's skin and functions as an interface between interior and exterior space. It provides thermal and sound insulation and ventilation, and controls and guides the entrance of daylight into the building. Climate Skin offers concrete planning advice for architects and engineers who wish to exploit not only the architectural potential of facades but also their energy and climate-control possibilities, treating the building envelope as an essential component within a complete climate-control and technology solution. It provides a solid foundation of knowledge that equips the reader to make competent technical and economic evaluations of building envelopes. For everyone concerned with facades, Climate Skin is a comprehensive planning handbook and reference work that covers all of the relevant technical and physical aspects of the design and detailed planning of energy-efficient facades.

| | | |
| --- | --- | --- |
| | | |
| | Click on image to buy from Amazon.com | |

Natural Ventilation in Buildings - A Design Handbook by Francis Allard and Mat Santamouris, 1998. A how-to book on ventilating buildings naturally. Approaches can be high-tech or low-tech, but always need to be part of an integrated design approach. A range of technical issues, such as building codes, fire regulations, and acoustics, also need to be taken into account. This new handbook describes the real potential of natural ventilation, its appropriate use, the design and dimensioning methodologies, the need for an integrated design approach, and how to overcome barriers. Includes a CD with software to assist in the calculation of airflow rate in natural ventilation configurations. This book is based on the work of 25 experts from all parts of Europe who have collected, evaluated, and developed the material under the auspices of the European Commission's Solar energy and Energy Conservation R&D programs. This books provides essential design information for all architects, building engineers, and other building design professionals.

| | | |
| --- | --- | --- |
| | | |
| | Click on image to buy from Amazon.com | |

The Fifty Dollar and Up Underground House Book, by Mike Oehler, 2000.

| | | |
| --- | --- | --- |
| | | |
| | Click on image to buy from Amazon.com | |

The Earth Sheltered Solar Greenhouse Book by Mike Oehler, 2007. The author writes, "my secret is that on the south wall of the greenhouse I dig a pit down eight feet and build a walkway up four or five feet where I can walk and bend over the growing beds to work on the plants. The pit allows cold winter air to flow downward to be heated by the earth rather than lying on the plants. On flat land I'd sink my north wall and all the grow areas about four foot deep and pile the earth up on the north side leaving at least a foot of north wall exposed for ventilation "windows" that can be opened as needed. I'd put some rigid foam insulation over that mound of earth on the north and a layer of polyethylene to keep it dry and some inches of earth to protect the poly from the sun. That north mound will serve as a heat sink then, to radiate heat back into the greenhouse at night." A complete review of this book by Kelly Hart can be read here.

undergroundhousing.com This links to information about Mike's book and videos, presented by the publisher.


The Earth-Sheltered House: An Architect's Sketchbook by Malcolm Wells, 2009. The author's perspective on design and the building process is based on millennia of use of earth-sheltered homes by animals and humans, using the earth to keep warm in winter and cool in summer. His imaginative architectural drawings, sketches, and design plans are surrounded by his handwritten commentary about Earth-friendly building and design, cryptic remarks and humorous asides that make this book a pleasure to browse or read. He offers a breathtaking assortment of some of the most creative and unusual home and building designs ever assembled. Some are fully underground structures, some partially earth-sheltered, but all make the best use of light sources, designed to benefit from the sun and seasonal changes, and to protect or restore the natural habitat around and above them. Wells's work is revolutionary, but readers will find his message to be pure common sense. Earth sheltering offers superior comfort with minimal energy input, and it is adaptable to diverse terrains as well as a variety of architectural aesthetics.



| | | |
| --- | --- | --- |
| | | |
| | Click on image to buy from Amazon.com | |

Earth-Sheltered Houses: How to Build an Affordable Underground House by Rob Roy, 2006. An earth-sheltered, earth-roofed home has the least impact upon the land of all housing styles, leaving almost zero footprint on the planet. Earth-Sheltered Houses is a practical guide for those who want to build their own underground home at moderate cost. It describes the benefits of sheltering a home with earth, including the added comfort and energy efficiency from the moderating influence of the earth on the home's temperature (keeping it warm in the winter and cool in the summer), along with the benefits of low maintenance and the protection against fire, sound, earthquake, and storm afforded by the earth. Extra benefits from adding an earth or other living roof option include greater longevity of the roof substrate, fine aesthetics, and environmental harmony. The book covers all of the various construction techniques involved, including details on planning, excavation, footings, floor, walls, framing, roofing, waterproofing, insulation, and drainage. Specific methods appropriate for the inexperienced owner/builder are a particular focus and include: pouring one's own footings and/or floor, the use of dry-stacked (surface-bonded) concrete block walls, post-and-beam framing, plank-and-beam roofing, drainage methods and self-adhesive waterproofing membranes.


| | | |
| --- | --- | --- |
| | | |
| | Click on image to buy from Amazon.com | |

The Vertical Garden: From Nature to the City by Patrick Blanc, 2012. Nobody is more familiar than Blanc with the secrets of the plants, from all over the world, that live on almost nothing, in the most unlikely situations, carpeting the forest understory in semi-darkness or clinging to rocky cliff faces. From Paris to Bangkok, from New York to Singapore, Blanc invites nature to flourish on the walls of museums, shopping malls, private homes, big hotels, and skyscrapers. His works have brought a breath of fresh air to urban environments, changing our view of the cityscape, orchestrating and bringing art into the heart of the city, transforming concrete walls into refuges for biodiversity. 465 color illustrations.

| | | |
| --- | --- | --- |
| | | |
| | Click on image to buy from Amazon.com | |

Gardening Vertically: 24 Ideas for Creating Your Own Green Walls by Noémie Vialard, 2012. Until recently the idea of vertical gardening was limited to growing climbing plants on walls and trellises, but it has been completely transformed in recent years through the impetus of Patrick Blanc, who invented the concept of the Vertical Garden, also known as the Mur Végétal, or Green Wall. Since then, many new developments have appeared (ready-made walls, small garden scenes, etc.). These are all techniques that Noémie Vialard presents in this book, paying particular attention to her friend Patrick Blanc's concept and featuring the wall of aromatic plants he designed especially for her. Step-by-step photographs guide you through the different stages in the development of a wall like this for personal enjoyment. Following are twenty-four different ideas for vertical garden compositions, each beautifully rendered in Dominique Klecka's illustrations with simple instructions to help you to create and maintain it yourself.

| | | |
| --- | --- | --- |
| | | |
| | Click on image to buy from Amazon.com | |

Vertical Gardens

by Anna Lambertini, 2007. Bringing nature into urban environments has always been a challenge; one of the most spectacular solutions to this problem is the vertical garden. Far more than just an unusual decoration attached to a wall, these gardens are an exciting means of bringing life and greenery to a bleak courtyard, a gray city street or a cold modern building. Vertical Gardens is the first publication to present a collection of the most important examples of this emerging trend. Those who create vertical gardens apply the principles of hydroponics and use ingenious framing systems that allow luxuriant compositions of plant life to colonize the exteriors of buildings. The aesthetic result is truly stunning and has attracted the attention of many architects and designers. Vertical Gardens explores this phenomenon in thematic sections, which are enriched by the reflections of its most innovative practitioners. This richly illustrated book will be essential reading for all professionals or anyone interested in this fertile new area of landscape design.

| | | |
| --- | --- | --- |
| | | |
| | Click on image to buy from Amazon.com | |

Earth Sheltered Designs, Davis Caves Construction, 2000. Over 80 earth sheltered floor plan designs and artist's renderings, prepared by architects and engineers. Floor plans range from 670 square feet to over 7,000 square feet of residential and commercial space.

| | | |
| --- | --- | --- |
| | | |
| | Click on image to buy from Amazon.com | |


Climate Responsive Design: A Study of Buildings in Moderate and Hot Humid Climates by Richard Hyde, Peter Woods, 2000. The increasing interest in effective energy use in buildings and of the effect of this on human health, has generated the need to consider more carefully designing buildings with climate in mind. This book provides a unique source for those requiring guidance on climatic design. Covering theory and application, it provides examples of innovative and best practice in 'responsive architecture' through case studies. The book also covers the broader topic of technology as a generator in design which will be of interest to all those involved in design and building. The book focuses on tropical climate but some of the theory can be applied to other climates; the difference in application is clearly delineated.

| | | |
| --- | --- | --- |
| | | |
| | Click on image to buy from Amazon.com | |

Planting Green Roofs and Living Walls by Nigel Dunnett, Noel Kingsbury, 2008. The latest techniques for planting roofs and walls to enhance our buildings and benefit the environment. In this comprehensively updated, fully revised edition of their authoritative reference, Nigel Dunnett and Noël Kingsbury reveal the very latest techniques, materials, and plants, and showcase some spectacular new case studies for the non-professional. Green roofs and walls reduce pollution and runoff, help insulate and reduce the maintenance needs of buildings, contribute to biodiversity, and provide habitats for wildlife. In addition to all this, they are attractive to look at and enhance the quality of life of residents. The authors describe and illustrate the practical techniques required to design, implement, and maintain a green roof or wall to the highest standards.

| | | |
| --- | --- | --- |
| | | |
| | Click on image to buy from Amazon.com | |

Heating or Cooling Your Building Naturally: Solar Architectural Solutions by Virginia B. Macdonald, 2006. Through an initial explanation of her principles and ten case studies, the author relates how vertical ventilation and controlled daylighting--to the exclusion of air-conditioning and daytime electric lighting--can be applied. The author explains in simple language, with photos and diagrams, how to use the sun to cool or warm a building as needed, while at the same time reducing mildew, dust, and many pathogens. The premise is simple and has been used throughout the ages in all cultures and climates: hot air rises. That's the starting point for all the ideas and designs contained in this book, taking advantage of the natural vertical flow of air to regulate the temperature of enclosed spaces. Likewise, the documented health benefits of controlled daylighting are well-known, and the projects here described make ample use of skylights (with spectrally-selective glazing) in addition to windows, so that electric lighting is seldom needed during the day.

| | | |
| --- | --- | --- |
| | | |
| | Click on image to buy from Amazon.com | |

Stay Cool: A Design Guide for the Built Environment in Hot Climates

by Holger Koch-Nielsen, 2002. In hot dry or warm humid countries, more than half of the urban peak load of energy consumption is used to satisfy air-conditioning demands alone. Since the urbanization rate in developing countries is extreme, the pressure placed on energy resources to satisfy the future requirements of the built environment will be great, unless new, more cost-effective measures can be introduced.

Stay Cool

is an essential guide for planning and design using active design principles and passive means to satisfy human comfort requirements specifically in these climate zones, based on examples of traditional and modern constructions. The book demonstrates how a design strategy for urban environments and individual buildings, incorporating naturally occurring resources and specific energy-efficient technologies, can create a location, form and structure that promotes significant energy savings. Such strategies can equally be applied to low cost housing, or indeed to any other buildings, in order to improve comfort with passive means and low energy budgets.


Green Roof Plants: A Resource and Planting Guide, 2006
by Edmund and Lucie Snodgrass

| | | |
| --- | --- | --- |
| | | |
| | Click on image to buy from Amazon.com | |


Green Roofs: Ecological Design And Construction, 2004
by Earth Pledge Foundation

| | | |
| --- | --- | --- |
| | | |
| | Click on image to buy from Amazon.com | |

Earth Sheltered Housing: Code, Zoning, And Financing Issues
by University of Minnesota, 2005

| | | |
| --- | --- | --- |
| | | |
| | Click on image to buy from Amazon.com | |

The Use of Earth Covered Buildings
Frank L. Moreland, Charles Fairhurst, 2000


| | | |
| --- | --- | --- |
| | | |
| | Click on image to buy from Amazon.com | |




Green Roof: A Case Study: Michael Van Valkenburgh Associates' Design For the Headquarters of the American Society of Landscape Architects
by Christian Werthmann, 2007

| | | |
| --- | --- | --- |
| | | |
| | Click on image to buy from Amazon.com | |

Green Roofs and Facades
by Gary Grant, 2010

| | | |
| --- | --- | --- |
| | | |
| | Click on image to buy from Amazon.com | |

Green Roofs in Sustainable Landscape Design
by Steven Cantor, Steven Beck, 2008

| | | |
| --- | --- | --- |
| | | |
| | Click on image to buy from Amazon.com | |

Passive Cooling of Buildings
by Mat Santamouris, D. Asimakopoulis, 1996

| | | |
| --- | --- | --- |
| | | |
| | Click on image to buy from Amazon.com | |
SunEarth House Paul Shippee, Designer
This earth-covered, passive solar, 1863 sq ft house achieved the very best performance in a HUD-sponsored energy survey when it was first built in the late 1970's. For three years after the house was built, it was computer-monitored, and according to the National Solar Data Network, the SunEarth house out-performed hundreds of passive solar houses in the country. The house was designed, built, and marketed by Colorado Sunworks. The furnace was put to rest during its first winter because the pilot light was wasting natural gas. All of the space heating demand is supplied by the passive solar system.
The heating system is a direct gain, passive solar system and drum wall. The south side exposes 300 square feet of glass windows. The windows are two panes of insulated glass that run floor to roof. Behind the windows are 54 large, vertically stacked barrels. Sunlight directly warms these 55-gallon oil drums that are painted with a flat black finish and filled with water. During the day, the water and interior concrete walls inside the house absorb the sun's heat. The heat is released slowly after the sun sets.
At night, when temperatures begin to drop, a blower pushes polystyrene beads between the two panes of glass, providing insulation to keep the daytime heat inside the home. On winter nights, this moveable Beadwall insulation converts the large window areas to R20 heat loss barrier. Six vertical skylights are arranged on the north side of the earth roof. Maximum solar energy takes place during the winter, and minimum solar energy occurs in the summer.
Winter Mode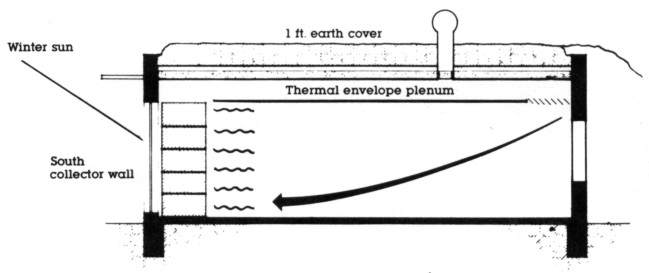 Stored solar heat is released from the water containers as needed. Heat flows naturally by low temperature radiation and by warm air convection to the north side of the house, thus balancing comfort zones throughout the living space.
Summer Mode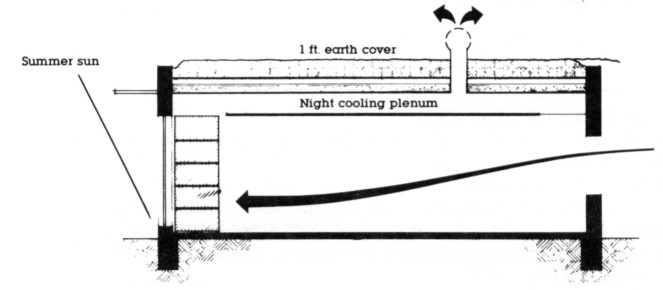 Interior thermal mass is cooled down on summer nights by providing a natural air now path. Daily heat gains aree rejected by this method through turbine roof ventilators. The cooled massive house is then closed up on hot summer days for comfortable living.
For more information about this plan, and many others, visit our sister site www.dreamgreenhomes.com, where you will find a wide range of plans for sustainable homes, greenhouses, small buildings, garages, and food storage space for sale. Dream Green Homes is a consortium of outstanding architects and designers, who have pooled their talent and expertise for your benefit.
GENERAL
malcolmwells.com Malcolm Wells, the grandfather of earthsheltering, has a wonderful site about his work.
doefactsheets general facts about earth sheltering.
earth-house.com wide ranging site mostly about earth sheltering.
GREEN ROOFS
greenroofs.com very informative site featuring a variety of concepts for growing roofs.

schundler.com/greenroofs a discussion with photos and links about various green roof applications utilizing perlite.
squidoo.com/greenroofs information, links, and photos related to green roofs.
greenroofs.com "The greenroof industry resource portal"
bestcollegesonline.com lists and describes 20 colleges that have ioncorporated green roofs into their buildings.
SPECIFIC EARTHWORKS
solterra.info The Semrock's vision and ongoing constrcution of their earthsheltered home.
ourcoolhouse showcases a couples' exploration of earthberming.
williamlishman.com a description with photos of a unique underground home.
marant1946.blogspot.com this blog is very informative about the construction of this Texas earth-sheltered home.
formworksbuilding.com shows interior and exterior images of several of their underground or bermed ferrocement buildings.
trendir.com here is wonderful example of underground architecture in Switzerland.
simondale.net a lovely example of using local natural materials to build a comfortable and beautiful home that is recessed into a hill.
paradomehomes.com plans and photos of a two-story, thin-shell concrete underground dome home.
CONCEPTS
stormbear.com some speculation about using concrete pipes for underground "Hobbit" homes.
earthlink.net a rambling exploration of the possibilities of burying culverts or quonsets for homes.
americansheltertechnologies.com manufactures steel arched buildings that can be placed underground.
radio.weblogs.com pictures and description of various underground building concepts.
PASSIVE ANNUAL HEAT STORAGE
norishouse.com describes how a PAHS house can keep an underground house comfortable year round with no additional heat source.
earthshelters has information and plans for a passive solar heat storage (PAHS) system and is related to the above link.
GEOTHERMAL
Seabird Island Project shows unique design for the solar heating of water and space through warm air collection and geothermal heat tubes.
CHART OF UNDERGROUND TEMPERATURES
This Chart shows underground temperatures in the United States and around the world.