Q: I am a student of final year architecture and working on "under ground commercial spaces" as my thesis project but not getting relevant information regarding this. My aim is to emphasize building materials and construction technology and also the important services required. If you could enlighten my way, I will be heartily thankful to you.
A: (John MacMillian) The basic construction technique is to build forms, place rebar into the forms, then pour concrete into the forms. After the concrete cures the forms can be removed. Any plumbing or electrical service must be in place (and tested) before the concrete is poured into the forms. In general, for a one story building, the walls would be at least 12 inches thick. As an alternative, concrete blocks are often used. The block wall is built (with rebar and all services in place). Then the blocks are filled with concrete. Using this technique, no form is required. A similar method uses large, hollow, styrofoam blocks instead of the concrete blocks. This adds two inches of insulation to the interior and exterior of the building.
Q: If I built an earth-covered house what are the choices for the roof construction? Would it be pre-stressed concrete or what?

A: For an earth covered house the roof loads are great, even for one foot of earth cover. One foot of earth is equal to a two foot deep pond of water on the roof, or 10-20 feet of snow. So the safety factor is important. You can use pre-stressed concrete panels or steel bar joists with a 2 inch concrete decking poured over that. All must be engineered carefully for structural safety.
Q: If you live in an earthquake prone area, how can you design the earth sheltered home to be earthquake proof? How does it become earthquake proof.

A: You have to hire a structural engineer who is trained in earthquake reinforcement to design the support elements. This is essential.
Q: I would like to eventually build an underground house on land that consists of 40 ft of sand (according to our well supplier). Generally the rainfall is about 35-45 inches a year, but water drains away immediately. Will this soil structure support an underground dwelling? Also, what material would be best suited for the task?
A: Sand will not support anything, but that's not the issue. It is good that you have sand. It's a good insulator when dry. When building underground, or earth-sheltered, use concrete. Can't be beat for its structural strength and longevity either underground or underwater. You will need these features to support earth mass overhead and to hold up the walls. Find a good structural engineer in your area and ask him what he would do, after you sketch up what you want to do. Google Sketchup, in fact, to find a design software that you might be able to learn, like, and use. It's free!
Q: I am trying to build an underground (or partially underground 4' to 6' below ground) cabin in central Texas. The soil is very fine Padina sand. This sand goes very deep and does not hold water. The water table is 30' to 40' feet. I am thinking of mixing this sand and Portland cement (approx. ratio 6:1) with little or no larger rock. Is it possible to put a mixture dry in the forms and mist water on the top of the forms? (the forms are 20' long by 1' high); pour 1 layer, let it cure, stack another on top, pour, cure, etc. Should I add any retarder to this mix?
A: I don't think misting the cement/sand mix will be a good idea for an underground structure that must withstand earth loads. Fine sand and cement can make a strong mix concrete, but I would make some test cylinders and have them tested at a reliable lab. Make the cylinders according to their specs, and test your desired ratios of sand/cement for ultimate strength. This is the usual and safe procedure.
Q: I live in Honolulu, where humidity is usually pretty high and temperatures generally between 70 - 85F. Beneath some steep hillside property, I'm considering a large cut-and-cover earth-sheltered workspace/garage/occasional living-space. The appeal of earth-sheltering would be both to keep the space cool, as well as to minimize noise-annoyances from my oddball projects (say, running a big router or grinding steel). I've only just started reading what I can find online, and have to filter out a lot of irrelevant info. One such issue: in the Honolulu climate, would you expect that uninsulated, plain concrete surfaces within the shelter would condense moisture to the point where it would cause a problem?
A: (Kelly) I don't have any direct experience building in this sort of climate, but one resource that you might read is shapingbuildings1.pdf , where the author states: "Earth walls don't get hot or cool very quickly because earth insulates better than concrete. Heavy concrete walls in very humid areas become frequently damp from condensation, causing algae or mold growth. Solid earth walls will receive less condensation than concrete because they are less dense, and because they absorb more humidity." For this reason you might consider building the walls with earthbags filled with earthen material rather than with concrete. You might check my other website, www.earthbagbuilding.com, for more information about earthbag building in general.
Q: I'm looking to build a completely underground space with 12' of over burden. My very limited experience is that a vault is the best load bearing shape. My plan is to cut and cover, using a prefab steel arch building as a form, braced on the inside with plenty of lumber. Rebar and mesh on top of the arch and then concrete over the whole thing. My question- will the steel arch building make a suitable form? Will the arch building, along with the bracing, support the concrete and rebar while it dries?
A: Yes, the steel arch building can make a suitable form. Questions of 'structural support' can only be answered by rigorous analysis and calculations. I suggest... no, strongly advise...that a local structural engineer analyze the loads and design adequate structural support. Living under 12' (feet or inches?) of earth is not a matter of luck, speculation, conjecture, or guessing. Remember, Safety First!!!!
Q: We are a group of harmless, fun loving people dreaming of a perfect utopian habitat. We want to build a community centre in Kissimmee, Florida near Orlando. We're excited to implement passive solar design principles and use natural materials as far as possible with native landscape. The land (7 acres) is entirely flat, sandy soil and has a man made large pond on the east side. I have read and re-read greenhomebuilding and I think earth shelter/berming seems to best suit my objective and I'm also excited about the organic look it allows both inside and outside, a breather from straight lines! I have some questions and I hope I'm not asking too many: 1. The 100 year flood elevation is 66 and we are at 67. Does this mean the earth shelter is unsuitable? even if it is above ground and bermed? 2. Since one of the design objectives is to use natural materials, can I use bamboo for form and to strengthen the roof instead of reinforcement? 3. In continuation to the above question, what material can I use for roofing apart from cement? Is there a natural material option or maybe a energy efficient material/green product that I can couple with bamboo for structural stability? 4. For this climate, what sides should I berm up and what sides should have openings? 5. Is cross ventilation a must to avoid humidity and how can I achieve this in berming up 3 sides? 6. What sort of foundation is required for this type of shelter and the type of soil? 7. Since the water table is high, it will not allow for digging. So where can the earth for berming come from? Isn't it expensive and hence unsustainable to purchase it? 8. Are there any documents available to help me during design/construction, like a guide that I can refer to?
A: You are asking all the righteous questions here before you rush into such a project. I am not familiar with Florida or high water tables so my experience is limited. A basic rule for earth supported overhead is to get a local structural engineer involved in the design. Earth berming and lots of insulation seem essential due to the hot, humid weather. However, since nights are probably not very cool then natural night cooling is not feasible unless you can use the coolness of deep earth or subground water. I would suggest building a smaller model first, like a shed to get some experience with all of your questions. Hands-on learning is best where mistakes can be turned into learning.
Will berming keep the inside cool at night in a hot and humid place? I could have wind scoops connecting to form a respiratory network for air circulation. What do you suggest?
Berming in your climate will not have much effect on cooling needs, because it is so warm there most of the year that
Ground temps are warm maybe down to 6-8 ft Wind (if you have much) scoops might be utilized ---I would dig down 10-20 ft into the earth and see what the soil & water temps are down there. If around 50-60F (or even 70F) then you could use them as a ground source for cooling needs.
Q: I am looking at building an underground house in the future. I would like the entire house to be underground and to be inside of a hill. I would like to only have a door and maybe a window or two showing to the outside. Is it possible under current building codes to build the entire house underground? Also I need to find a suitable building material for my area. I live in Georgia and it is very humid. I have looked into the concrete but it seems to be quite susceptible to humidity issues.
A: Concrete is strong, and you need strong to hold up an earthen structure. You can find ways to deal with the moisture issues. Windows for fire egress are required by building codes from sleeping rooms, and you also need ventilation.
Q: We are building in the mountains of Catron County New Mexico. We would like for three walls to be underground, with the fourth wall above ground with windows and doors -- like a daylight basement without the first floor. The lot is near the continental divide, so it will need to be warm in the winter. Summer temperatures are not extreme. What would be the best natural construction techniques and materials to use in this context?
A: Whatever you use for the walls, they will need to be structurally adequate and insulated. Most underground walls use concrete or masonry blocks…both well reinforced with steel rebar. You have to think of not only earth pressure on walls but also moisture and deterioration of various kinds.

Q: Do you know of anyone doing earth-sheltered homes made with the technology that involves foam blocks and poured concrete? Are plans available?
A: (John MacMillian) I do know someone who built his home using them. It went well and his home is great, well insulated, strong, and very energy efficient. The blocks were easy to use and the walls went up fast! I wish they were available when I built my home!
Q: I am currently designing an earth-sheltered home, but have been unable to determine the best building material for my location and how this will affect my design. I have been leaning toward lightweight concrete lately as I am impressed with the creative flexibility of it. I live in an extreme climate (Northern Canada)temperatures range anywhere from -40 to 104F, the prairies are dry and windy. I will be covering all but the south side of the home with earth, as this is where my greenhouse will be going. I would like to build it right into the house rather than externally and am expecting high humidity inside there, I will be separating the greenhouse from the main house with glass. I was hoping you could recommend the best material for me to work with, or if you know of any reference materials dealing specifically with this climate.
A: (John MacMillian) I would suggest using foam blocks and poured concrete. This method is very easy to use. The foam blocks are shipped flat and put together with plastic spacers. The walls go up quickly and are tied together with string. Additional wood braces are added, and then the walls are filled with concrete. Make sure you fill the wall in layers to help prevent a blowout. (Filling the walls in layers of a couple feet or so at a time allows the concrete to setup and reduces the likelihood of a blowout.) I've seen this technique used a couple of time, always with great success. If it's available in your area, I would suggest you explore using this method.
Q: I would like to build a earth-shelter detached garage in Northern Illinois. The site has enough slope. The 30' x 24' garage with earth roof could be completely 'encased' except for the doors. I like the foam block concept...but wonder if its overkill or, in fact, contrary to my desire to let the garage temperature be mitigated by the soil temp.
A: Well, with no windows on EWN sides the earth cover should be easy. Pay strict attention to the structural design for roof and walls as these support big loads. Of course you will have the 30 ft side facing south with lots of windows?? In this case, two inches of rigid styrofoam (not beadboard) on the outside of of 8-10 inch concrete walls will store the passive solar heat, IF you insulate the south windows on cold nights.

I don't see much advantage for using foam block... In fact it's probably a disadvantage if you want to use passive solar, and an advantage if you only want to heat occasionally with a wood stove or other fuel.


Q: I am wondering is there a way to build an earth shelter with using only natural materials?
A: (Kelly) One possibility for earthsheltering with natural materials is to make small domes, cones, or vaults with earthbags which can be backfilled. These can be stabilized to some extent with poles or vigas of wood. But be careful with putting too much weight on these.
Q: We want to build a 1000 sf home in St Petersburg, FL. This area has a summer rainy season, flat terrain and very sandy soil. the hot season is long, and we do have a cold winter season-2 months. What possibilities are there for such a situation?
A: Being in the ground is a proven way to keep a dwelling cool in a hot tropical climate. Earthbags are an inexpensive way for an owner to build. If you design the walls to be round, they will be able to hold back much more earth than a straight wall.
Q: What other materials are available besides concrete and PSP for a earthshelter?
Q: I want to build a retaining wall about 6 to 8' high. I'd like to make a form and stack concrete made blocks. Is this possible? I've also thought of using discarded tires.
A: (Kelly)A retaining wall 6-8 feet high would have a lot of lateral pressure on it. If the wall is curved, with the convex portion against the earth, it will be much stronger. Tires would be more stable than the block wall, but might also be more work, because the tires need to be packed with earth, as they are in an earthship. You might look for a book about earthships to get some ideas for this.
Q: I need some ideas on how to construct a round roof that's roughly 3 meters in diameter which will need to support 1.5-1 foot of earth plants etc. The original structure is a type of antique cylo (situated close to Barcelona) the walls are stone and a type mortar roughly a foot thick. Only half of the structure is visible due to the ground levels and from this side will be a small opening (with door) down 3 feet into the planned sauna! What would you recommend in the way of material? concrete beams with blocks in between with a layer of cement over the top?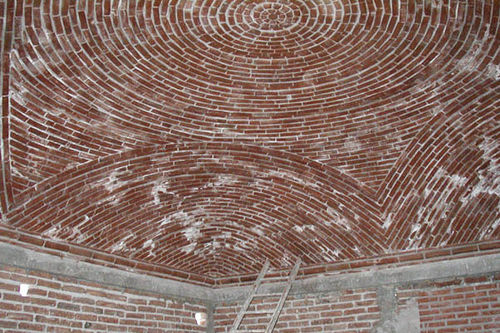 A: (Kelly) I would seriously consider the possibility of making a shallow dome with bricks as is commonly done in Mexico and perhaps Spain. The artisans are able to accomplish this without any formwork, believe it or not.


Q: I am wondering is there a way to build an earth shelter with using only natural materials?
A: Root cellars are often made with natural materials, and they are earth shelter, and they are small. However, for a home with larger rooms it is difficult to hold up an earth covered roof with naturals materials. One here that I know of had wood round roof beams (tree trunks) that were over 2 ft in diameter placed about 4-6 ft on center to hold up two ft of earth roof over a span of about 20 ft. So it can be done, BUT the safety issue of all that weight overhead is something to be afraid of every night! BE CAREFUL!!!


Q: I am only 14 years old but I am very much interested in underground buildings. I like to build and rebuild stuff. I was thinking about building an underground kind of living space that would not be able to be seen by someone just walking along. I wanted a private area, secluded, isolated. Somewhere I could go to be only and in my own privacy. I have once before built a "room" underground kind of like an underground shelter. I just need help on how to make it waterproof, how to build frames, etc. and be able to this with not much money. (Something I don't have due to age) But I am asking you not to look at me as an immature teenager just dreaming but to actually help me cause I am determined to do this and I very much want to do this. Please help if possible.
A: I think the Indians have built these kind of shelters. Also, the first settlers in Nebraska built them to help get through their first winter there. The biggest danger and safety concern in building underground spaces is that the roof covered with earth is not supported well enough and might fall in on you. So, watch out for that. Find a south facing hill and dig a hole into it. Make the roof out of thick logs placed close together. Keep the water out by placing a few layers of plastic over the top, then put dirt on top of that. Remember, dirt is heavy and water will make it even heavier, so pay much and close attention to the roof structure.


Q: I would like to know if you have any new info on cave dwellings. I have a south facing cave on my property and would like to chisel into it for a home dwelling without the huge bank loans of earth dwelling contractors of 100 dollars per square foot.
A: Sometimes those things cave in, especially if you start chiseling, so be careful! Also, they can be damp... Try spending the night in there and see how you like it.
Q: I want to dig an arched hole in the side of a mountain and therein build a home. I've searched the terms "earth-sheltered" and "underground homes", and I come up with thousands of hits, mostly related to any structure with grass on it. Could you tell me how to narrow my search to sites related to my "arched hole?" Do you know of any companies who construct such dwellings?
A: (Kelly) The feasibility of digging such an arched hole in your mountain will depend greatly on the geologic reality of the site; if it is stone or well consolidated soil, then it might be just a matter of digging or blasting your way in...if the soil is looser and of a caving formation, then the whole project will be much more delicate and will probably require formwork and engineered support. This is all so specific, you are best off getting advice from an engineer locally.
As for terms to research this via the internet, I might suggest "cave homes" "tunneling" "digging mine shafts" "digging caves" as possibilities. You may need to employ professionals in the mining or tunneling industry to accomplish this.


Q: I am a final year architecture student from Mumbai India. My thesis topic is "training center for the blind". I'm trying to use temperature differences above and below the ground as orientation landmarks for the blind which helps them locate where they are within the campus. The site is at the bank of a river. The climate is hot and humid. Also I'm not able to find out the exact water table level. All I know is that river sand is produced in the vicinity. Also the site is primarily an agricultural land and gets flooded during monsoons because a lot of digging has been taking place. Could you please guide me on the feasibility of an earth sheltered structure in my case and also as to what assumptions could I make regarding the water table? What measures should I take to overcome the problem of excessive humidity (around 90% in summers and monsoons)?
A: (John MacMillian) I frankly would not build an earth sheltered home in the area you have described. To me that's just asking for trouble to build in a area with a high water table and frequent flooding.