| | | |
| --- | --- | --- |
| | | |
| | Click on image to buy from Amazon.com | |
Earthships in Europe by Mischa Hewitt and Kevin Telfer, 2012. The new edition of this successful book is a detailed description and evaluation of earthships in Europe. Its main purpose is to judge whether the translation of earthships – an American architectural concept pioneered in the New Mexico desert – to a European setting has been successful. The book includes case studies of people who have built earthships in France, Spain and Britain and a round-up of other projects. It also includes analysis of the most detailed thermal monitoring ever carried out on an earthship and the only ever known airtightness test. This analysis is used to make a series of design recommendations to help make earthships more effective in different climactic conditions. The book concludes by predicting the likely future of earthships in Europe – whether they will become a model for large-scale low-carbon housing or remain the preserve of a few brave self-builders.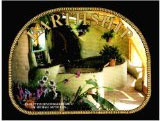 Earthship: How to Build Your Own by Michael E. Reynolds, 1990. This is the first in a series of three books about earthships. The basic concepts are clearly outlined.
Earthship: Systems and Components by Michael Reynolds, 1991. This second book in the series goes into more detail about specific systems that are adjuncts to the basic earthship.
Earthship: Evolution Beyond Economics by Mike Reynolds, 1993. This last book in the original trilogy is more of an exposition of Mike Reynolds's ideas about building and its place in the scheme of societies.
| | | |
| --- | --- | --- |
| | | |
| | Click on image to buy from Amazon.com | |
Comfort in Any Climate by Michael Reynolds, 2000. Comfort in Any Climate is about creating a comfortable space in any climate without the use of fossil fuels for heating and cooling. The book breaks down important sustainable design concepts into clear, easily understood elements: thermal mass, insulation, heating, cooling, and ventilation. Using examples of built Earthship designs, the author shows applications of the presented concepts through text, illustrations and color photos.
| | | |
| --- | --- | --- |
| | | |
| | Click on image to buy from Amazon.com | |
Water From The Sky by Michael Reynolds, 2005. This book takes its readers from problem to solution. It addresses the water shortage in New Mexico, the United States, and around the world. Step by step the book outlines how to solve the problem of water shortage through catching, storing, using, reusing and treating rainwater.
| | | |
| --- | --- | --- |
| | | |
| | Click on image to buy from Amazon.com | |
Earthship: I Want one by Michael Reynolds, 2011, Kindle Edition. This book the first in a series of short publications designed to provide the information necessary for people to secure the type of sustainable housing that will soon be a necessity. These books discuss concepts relative to today's current way of thinking and ways in which we will we have to think in the future as a species in order to survive on this planet. We must evolve.
| | | |
| --- | --- | --- |
| | | |
| | Click on image to buy from Amazon.com | |
Earthship Global Model Operation One: Tire Work (Earthship Global Volume How to Build Your Own) by Earthship Biotecture, 2011, Kindle Edition. With input from the Earthship crew, this 38 page booklet takes you through, step by step, on the tire work phase of a typical Global Model Earthship. It covers building walls, thermal wrap, vent tubes, cistern installation and front stem walls. Photographs, diagrams and thorough explanations of procedures will guide you through the tire work phase of the building. There is a Kindle Edition of this.
How to Build a Global Model Earthship Operation I: Tire Work by Michael Reynolds, 2012. Kindle Edition.
How to Build a Global Model Earthship Operation II: Concrete Work by Michael Reynolds, 2013. Kindle Edition.

| | | |
| --- | --- | --- |
| | | |
| | Click on image to buy from Amazon.com | |
Engineer's Report: Seismic Performance Evaluation and Tire Construction Analysis by Michael Reynolds [Kindle Edition], 2012. This engineering analysis is a compilation of studies and calculations conducted between 1990 and 1993 by Thomas E. Griepentrog, P.E. of Buckhorn Geotech, Consulting Engineers and Geologists of Montrose, Colorado and Kenneth D. DeLapp of DeLapp Engineering in Santa Fe, New Mexico. This report is a thorough analysis of all structural aspects of the Earthrammed Tire Walls of the Earthship design by Architect Michael Reynolds. This book also includes relevant parts (specific to Earthships) of a F.E.M.A. (Federal Emergency Management Agency) evaluation that researches many types of alternative building.
| | | |
| --- | --- | --- |
| | | |
| | Click on image to buy from Amazon.com | |
The Tire House Book by Ed Paschich, 1995. What are tire houses? Who builds them? How do they do it? Will I see the tires when the house is finished? How weird are they? Can I do it myself? You'll find the answers to these questions and more in this book that "Earth Quarterly" called "...an excellent addition to the library of any potential tire house builder, offering a wealth of unique ideas that can jump-start you to getting up, getting out, and building that sucker!" And the "Albuquerque Journal" said: "Better keep this one on the night table; you'll probably want to refer to it as you build a home or an additiona to one." Using "landfill" tires and a revolutionary process, houses are being built that are both revolutionary and evolutionary--Michael Reynolds builds self-sufficient EarthshipsT, and Ed Paschich builds traditional homes using tires for the exterior walls. This book will tell you how you can be more responsible when you build a home, improve a home, or add a garden. You'll learn about constructed wetlands, solar air conditioning, and xeriscape landscaping. It's all here with many illustrations and photographs.
| | | |
| --- | --- | --- |
| | | |
| | Click on image to buy from Amazon.com | |
Sustainable Living, Vol. 2: Green Building, LEED, Energy Star, Off-the-Gride, Earthships, Straw-bale Construction, Rammed Earth, Earthbag Construction and More by Elane Casselberry, 2011. This book discusses "green" or sustainable building methods used in the United States that are both centuries old and state of the art. It includes an over-view of LEED certification, Earthships and their creator Mike Reynolds, straw-bale construction, rammed earth, adobe, and earthbag construction.
| | | |
| --- | --- | --- |
| | | |
| | Click on image to buy from Amazon.com | |
The Zero-Carbon House by Martin Godfrey Cook, 2011. All aspects of the zero-carbon house, from its evolution to achieving carbon neutrality in old and new homes and even entire communities Ideal for anyone starting their journey to a low carbon lifestyle, this book includes an overview of zero carbon and how to achieve it on a global scale, covers communities of zero-carbon houses, and provides inspirational examples of low-carbon lifestyles. Case studies show how principles are put into successful practice to save energy, carbon, money, and the environment.
| | | |
| --- | --- | --- |
| | | |
| | Click on image to buy from Amazon.com | |
earthship WIZARDS: Part 1 by Michael Reynolds, 2012. [Kindle Edition] "A Coming of Wizards" is about finding and moving toward our potential. And it is the thinking from which the whole earthship concept has evolved. Based on Michael Reynolds' experience with four wizards part one calls forth an appropriate state of mind from which to perceive the "Wizard Information." In part two and three Reynolds moves beyond the human condition toward reaching our potential. The Ebook version of this text has been broken up into three parts and for the first time we are able to offer 19 full color illustrations (illustrated by Michael Reynolds) included in part 1 of "A Coming of Wizards".
Kindle Edition.
| | | |
| --- | --- | --- |
| | | |
| | Click on image to buy from Amazon.com | |
Earthship 101 Earthship Biotecture VHS Video by Michael Reynolds 2004. Earthship 101 is a 10 minute overview of the basic Earthship systems, types of buildings and Earthship communities in Taos County, New Mexico. This is an excellent overview of the Earthship concept--and would be great for classroom use. It's short, concise, and very informative. It is a 10 minute video literally packed full of constructive information and lots of color footage. Inspiring!!
Global Model Earthship
Michael Reynolds, Designer

The Earthship home will keep you comfortable in most any climate on the planet. These Earthship plans are the result of 40 years of research and development in the field and on the drawing table. Because these plans are "off-the-rack," this a very "user friendly" approach for the owner/builder. This unit can be the easiest first step into the Earthship method of living. Sizes begin at the 800 square foot "Nest" studio and go up to a 3 bed, 2 bath Earthship and larger. Because every room surrounds you with thermal mass, the rooms provide an embracing thermal stability. The Earthship modules may be built individually, in a step by step fasion to create a comprehensive approach for all aspects of a completely sustainable home.
Studio - 800 sq. ft. One Bed - 1000 sq. ft. Two Bed - 1200 sq. ft. Three Bed - 1500 sq. ft.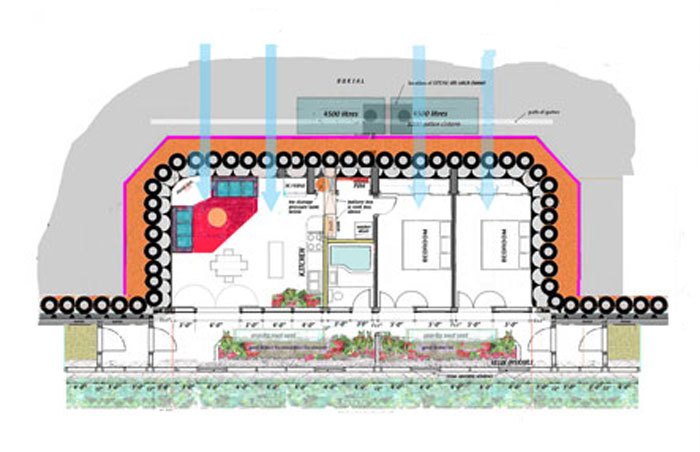 Floor Plan for 2-Bedroom Model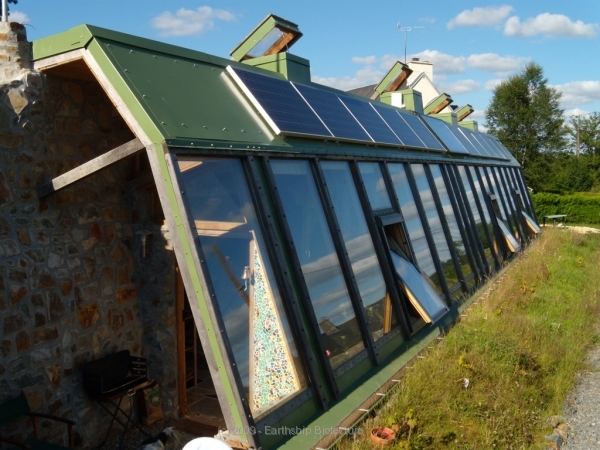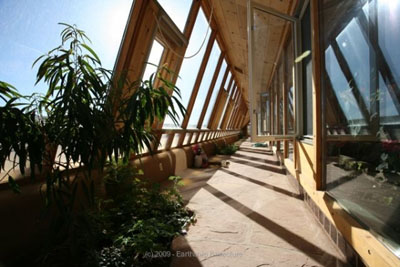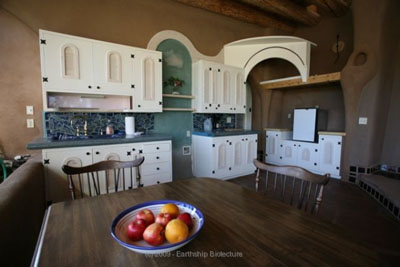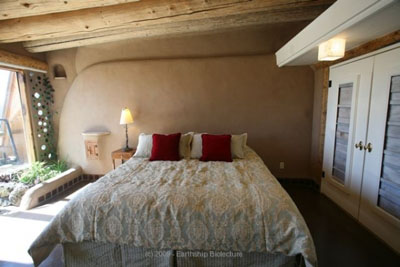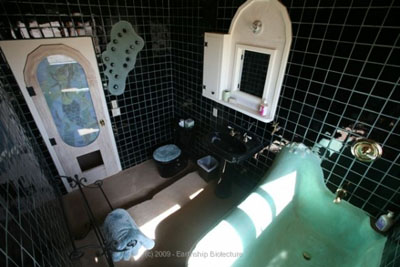 For more information about this plan, and many others, visit our sister site www.dreamgreenhomes.com, where you will find a wide range of plans for sustainable homes, greenhouses, small buildings, garages, and food storage space for sale. Dream Green Homes is a consortium of outstanding architects and designers, who have pooled their talent and expertise for your benefit.