Earthbag
Building with earthbags (sometimes called sandbags) is both old and new. Sandbags have long been used, particularly by the military for creating strong, protective barriers, or for flood control. The same reasons that make them useful for these applications carry over to creating housing: the walls are massive and substantial, they resist all kinds of severe weather (or even bullets and bombs), and they can be erected simply and quickly with readily available components. Burlap bags were traditionally used for this purpose, and they work fine until they eventually rot. Newer polypropylene bags have superior strength and durability, as long as they are kept away from too much sunlight. For permanent housing the bags should be covered with some kind of plaster for protection.
There has been a resurgence of interest in earthbag building since architect Nader Khalili, of the Cal-Earth Institute, began experimenting with bags of adobe soil as building blocks for creating domes, vaults and arches. Khalili was familiar with Middle Eastern architecture and the use of adobe bricks in building these forms, so it was natural for him to imagine building in this way. The Cal-Earth Institute has been training people with his particular techniques, and now the whole field has expanded considerably with further experimentation by his students and others.
I have taken Khalili's ideas of building with earthbags that are laid in courses with barbed wire between them, and come up with some hybrid concepts that have proven to make viable housing. Instead of filling the bags with adobe soil, I have used crushed volcanic rock. This creates a very well insulated wall (about as good as strawbale) that will never rot or be damaged by moisture. As a covering for the earthbags I used papercrete (see the papercrete page). This worked to seal the bags from the sun and the weather, without necessarily creating a vapor barrier...the walls remain breathable. But papercrete may not be sufficiently durable or a good choice in warm and humid climates because mold could form on it.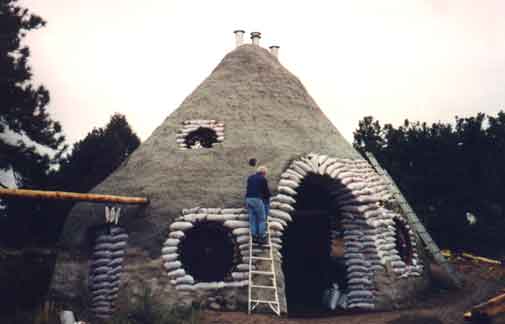 For a much more thorough look at every aspect of earthbag building, you might visit my other site: www.earthbagbuilding.com