| | | |
| --- | --- | --- |
| | | |
| | Click on image to buy from Amazon.com | |
The Concrete House: Building Solid, Safe & Efficient with Insulating Concrete Forms
by Pieter VanderWerf, 2007. Prospective homeowners will welcome this introduction to a durable, energy-efficient new building technology: insulating concrete forms (ICFs). Written by a top expert in the field, and organized in an accessible question-and-answer form, it will help homebuyers decide whether an ICF is right for them and how to get the most for their money. Every aspect of planning and construction is covered, from exactly what an ICF is to the intricacies of building a concrete house, from choosing a contractor to selecting a suitable design for the system. There's crucial advice on how to make sure construction goes smoothly, diagrams and photos to illustrate every point, beautiful ICF homes on display, and explanations of how these homes differ from conventional ones and why they cost less to maintain.
| | | |
| --- | --- | --- |
| | | |
| | Click on image to buy from Amazon.com | |
Insulating Concrete Forms for Residential Design and Construction by Pieter A. Vanderwerf , Stephen J. Feige , Paula Chammas , Lionel A. Lemay, 1997. Insulating concrete forms (ICFs) are hollow units made of plastic foam, assembled into the shape of a building's exterior, and filled with reinforced concrete to create structural walls. This step-by-step guide will introduce you to the advantages of ICFs, and show you how to incorporate them successfully into your homebuilding projects. Featuring a helpful eight-page color insert, the book offers you full coverage of ICF components, design issues, engineering, assembly, and much more.
| | | |
| --- | --- | --- |
| | | |
| | Click on image to buy from Amazon.com | |
Insulating Concrete Forms Construction : Demand, Evaluation, & Technical Practice by Ivan S Panushev, Pieter A. Vanderwerf, 2004. Guide to construction methods, providing the business and technical facts needed to make pro or con decisions about ICFs. Covers construction process details, including plumbing and electricity; comparisons of ICFs in commercial and residential construction; getting a good ICF crew; and more. Supported by the Insulating Concrete Form Association. For construction contractors.
| | | |
| --- | --- | --- |
| | | |
| | Click on image to buy from Amazon.com | |
Insulating Concrete Forms Construction Manual by Peter A. Vanderwerf, W. Keith Munsell, 1995. Insulated concrete forming systems (ICFs) provide many benefits to both contractors and homeowners. Hidden from view under sheetrock and siding, ICFs offer low labor costs; are easy to install; and are durable, energy-efficient, fire-safe, and virtually soundproof. Homes built with these systems look like any other, but under the standard covering lie solid, built-to-last concrete walls. Endorsed by the Portland Cement Association, this concise handbook gives contractors the hands-on information they need to use ICFs in the field. Authors Peter A. VanderWerf and W. Keith Munsell describe how these systems work, how to train crews to install them cost-effectively, and where to order product.

| | | |
| --- | --- | --- |
| | | |
| | Click on image to buy from Amazon.com | |
Making Better Concrete: Guidelines to Using Fly Ash for Higher Quality, Eco-Friendly Structures, by Bruce King, 2005. "This is the best and most readable 'how to' guide for using high fly ash concrete -- highly recommended. Using high fly ash concrete is a win-win-win solution: It makes better concrete, costs less, and has a greater environmental benefit than almost any other primary building material out there."-- Scott Shell, Architect, EHDD Architects
"At last, a practical guide on HVFAC written for engineers and contractors alike. When it's available, our company will want to buy 25 copies or so to distruibute to our Foremen, Superintendents and Project Managers. While we have been placing HVFAC almost exclusively for the last five years on all of our projects, we have had to rely on our leadership in the field to educate and to pass on their experience by word of mouth and by their example. Now, if they read the book, our men will also understand why HVFAC is such a great technology now and for the future of our planet."-- Deva Rajan, Founder, Canyon Construction
"This is an excellent and informative primer on recent developments in high performance fly ash concrete. The "win-win" use of a plentiful man-made waste product to economically obtain better concrete benefits clients, engineers, and the global environment."-- Mason Walters, Structural Engineer and Principal, Forell/Elsesser
Engineers, Inc.
romanconcrete.com links to an article about "Roman concrete" and its similarity to concrete with fly ash.
| | | |
| --- | --- | --- |
| | | |
| | Click on image to buy from Amazon.com | |
Concrete Systems for Homes and Low-Rise Construction by Portland Cement Association, 2005. Fast gaining on more traditional homebuilding materials, concrete systems save builders time, money, and headaches. Offering durability, cost savings, energy efficiency, and eye-pleasing aesthetics, concrete systems now account for large shares of the walls, floors, roofs, finishes, and landscape products in small buildings in the United States. But are concrete systems right for you and your construction crew? And if so, which ones? This is the place to find out. Written by experts from the Portland Cement Association, Concrete Systems for Homes & Low-Rise Construction provides expert, straightforward answers on concrete systems. Open these pages for everything you want to know about availability of products, evaluating concrete systems for homes and low-rise buildings, requirements for application, managing projects, and much more. Based on case histories, field research, and hands-on-the-hammer experience, and with more than 325 photos and illustrations, this one-stop resource shows and tells what you want to know. It's a huge time and money saver!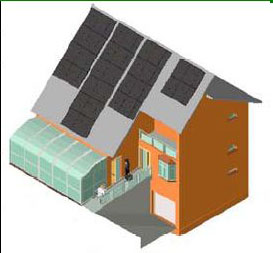 Solar Hybrid Home
Ferid Abbasher, Architect
Basement: 603 s.f.
First floor: 853 s.f.
Second floor: 534 s.f.
Total size: 1990 s.f.
Rooms include: Master bedroom, bath, second bedroom , sundeck, gallery/hall, and open lofted space that could be converted to an additional room.
What makes this EcoHouse design hybrid, is the fact that both active and passive solar systems are employed.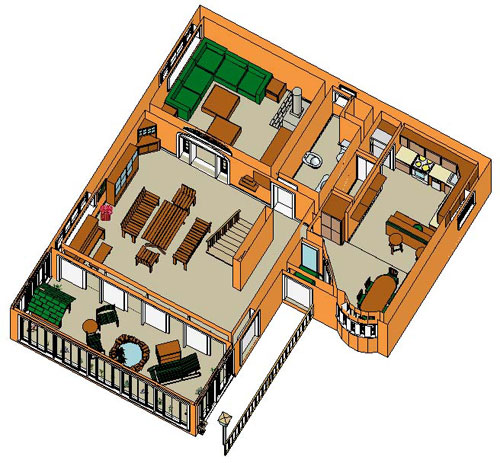 For more information about this plan, and many others, visit our sister site www.dreamgreenhomes.com, where you will find a wide range of plans for sustainable homes, greenhouses, small buildings, garages, and food storage space for sale. Dream Green Homes is a consortium of outstanding architects and designers, who have pooled their talent and expertise for your benefit.