| | | |
| --- | --- | --- |
| | | |
| | Click on image to buy from Amazon.com | |

Cordwood Construction Best Practices by

Richard Flatau, 2012. 259 color photos, diagrams and formulas will take the novice or experienced builder from house plans to cordwood home occupancy. Sections include: mortar mixes, R-values, code compliance, types of wood, drying wood, shrinkage tables, foundations, how we became mortgage-free, post & beam framing, formulas for estimating materials, homeowners insurance, Cordwood Conferences 2005 & 2011 summary, Best Practices with cordwood construction, lime putty mortar, cob, paper enhanced mortars, Permachinking walls, building codes, color photo album, making stained glass bottle ends, how-to "mortar-up" a cordwood wall, tuck pointing, FAQ's, maintenance, weight of a cordwood wall, cost analysis, Cordwood Education Center, White Earth Reservation cordwood home, a condensed version of Cordwood Cabin is included (which is architecturally drawn and state code approved and now serves as a classroom for the local public school), 196 pages.

| | | |
| --- | --- | --- |
| | | |
| | Click on image to buy from Amazon.com | |

Stoneview: How to Build an Eco-Friendly Little Guesthouse by Rob Roy, 2008. Stoneview is an octagonal, cordwood masonry timber-framed guesthouse with a living roof located in upstate New York, fully constructed and finished for just $6,000. In response to the enormous interest in this unique little home, author and builder Rob Roy has written Stoneview . Over 130 clear line drawings and step-by-step images provide the reader with all the information needed to build this three hundred-square-foot cabin from start to finish, and a full-color section shows off the beautiful design features of this charming "green" cabin. All design considerations are covered, as well as an interesting and thorough discussion of the geometry of the octagon. Separate chapters are devoted to: Site preparation; Forming and pouring the slab; Timber framing; The lightweight living roof; The cordwood masonry walls. Full instructions for the interior floor and wall finishing are included, as well as a basic plumbing system featuring the "humanure" composting toilet system. Stoneview concludes with a performance evaluation of the building and a complete costing analysis. Best of all, the house is appropriate for any climate.

| | | |
| --- | --- | --- |
| | | |
| | Click on image to buy from Amazon.com | |

Cordwood Building: The State of the Art, by Rob Roy, 2003. Cordwood Building collects the wisdom of more than 25 of the world's best practitioners, detailing the long history of the method, and demonstrating how to build a cordwood home using the latest and most up-to-date techniques, with a special focus on building code issues. Author/editor Rob Roy's new contributions include a basic cordwood primer; more about cordwood and cob (cobwood); code issues, a personal retrospective; and an article about cordwood's future. Important papers from the 1994 and 1999 cordwood conferences brought up to date include Bill Tishler's historical piece; A Round House with 16 Sides; Bottle Designs; Patterned Cordwood; Electric Wiring with Cordwood Masonry; Cement Retarders; What to do about Shrinkage; Cordwood Retrofit on a Mobile Home; three other articles on cordwood and the code, and more.

| | | |
| --- | --- | --- |
| | | |
| | Click on image to buy from Amazon.com | |

Complete Book of Cordwood Masonry Housebuilding: The Earthwood Method by Rob Roy, 1992. The author has written a series of books on cordwood construction and in doing so has arrived at what could be called the final word on this method. The book is well laid out and illustrated. When read cover to cover, the reader gains both valuable information and confidence.

Bill Nye's Cordwood (1887) by Bill Nye, 2008.

| | | |
| --- | --- | --- |
| | | |
| | Click on image to buy from Amazon.com | |

Complete Book of Underground Houses: How to Build a Low-Cost Home by Rob Roy, 1994. While this book is nominally about underground homes, much of what it describes relates to Roy's experience with cordwood construction. According to him, underground or "earth-sheltered" houses are unexpectedly livable. Judging by his book's attractive pictures, that's easy to believe. The house he bases his point-by-point guide on is indeed a showplace. Roy's main concern is creating such a house, from drawing up the plans to surveying the site to the actual building. Roy's instruction is insightful and comprehensive.


| | | |
| --- | --- | --- |
| | | |
| | Click on image to buy from Amazon.com | |

The Sauna by Rob Roy,1997. This is another of Rob's books that relates to his specific experience with cordwood construction, this time in building a detached sauna. It is replete with sauna history; tradition; health benefits; a complete, detailed guide to building one for yourself, along with resources for equipment and supplies; and instructions on the proper use and maintenance of saunas.

| | | |
| --- | --- | --- |
| | | |
| | Click on image to buy from Strawbale.com | |

The How-To Guide to Building a Monolithic Concrete Slab Foundation DVD, produced by the folks at StrawBale.com. Details of 4 different types of foundation... knowing these will present you with some options you can use for your projects. Learn why a thorough site evaluation is absolutely essential and will save you time as the project progresses. Learn what to look for when clearing a site.... what to leave, and what to remove. Learn how to build around existing structures, eliminating the possibility of damaging existing structures. Know why it is essential to remove top soil to minimize the possibility of moisture coming up from below and cracking your concrete slab. Learn the different methods to check for the grade of your site. Find out the best type of gravel to use and the thickness you need for your concrete pad. Learn why it is essential to thoroughly compact the ground prior to pouring concrete to prevent cracking in your foundation.

| | | |
| --- | --- | --- |
| | | |
| | Click on image to buy from Amazon.com | |

Besides combining all of the material from two previous cordwood masonry videos, The Complete Cordwood DVD has plenty of new material, including the use of paper-enhanced mortar with Jim Juczak, the 16-sided post-and-beam frame (a good way to build a round cordwood home under cover), and the use of commercial cement retarders. An extensive captioned slideshow rounds out the DVD, showing examples of round, post-and-beam and stackwall buildings, as well as construction details and special features.

| | | |
| --- | --- | --- |
| | | |
| | Click on image to buy from Amazon.com | |

The Complete Guide to Alternative Home Building materials & Methods: Including Sod, Compressed Earth, Plaster, Straw, Beer Cans, Cordwood and Many Other Low Cost Materials by Jon Nunan, 2009. This book will show you how to identify, locate, and effectively use many alternative building materials. The advantages and benefits of alternative building materials for both consumers and builders and the key ecological design principles are written about. It discusses straw bale, cordwood, cob, adobe, rammed earth, light clay, pise, earthbag, bamboo, earth-rammed tires, cork, wool carpeting, sod, compressed earth, earth plaster, beer cans, bottles, as well as living roofs and more. The performance characteristics of these materials and construction techniques for each are explored, as well as how to integrate plumbing and electricity into these alternative buildings. You will also learn about the structural aspects, climate control, siting, foundations, and flooring options. Ultimately, you will come to understand that these materials are often cheaper, easier to build with, stronger, more durable, and more fire resistant than many more conventional materials. I wrote the Foreword to this book and this website is given credit on the cover of the book.

| | | |
| --- | --- | --- |
| | | |
| | Click on image to buy from Amazon.com | |

Rustic Homes I Built w/ Chainsaw - $10 sf!!: Cordwood, Post/Beam/Board-Batten, Timber Construction by

Dennis A. Hooker, 2012. I built 3 Rustic Homes for about $10 a square foot - and a chain saw. By pictures and brief narrative I take you through houses that I - a non-carpenter - have designed and built. Three friends saw my houses and have ventured to build their own. A bonus feature in the book is a log house built by a friend from trees just above the cabin. I have built 3 houses, re-built several more, re-built and lived on three large boats - and continues to use rustic techniques - my main tool being a small chainsaw.

| | | |
| --- | --- | --- |
| | | |
| | Click on image to buy from Amazon.com | |


Building a Low Impact Roundhouse by Tony Wrench, 2001. This book deals with permaculture, low impact sustainable life, self-building with local materials, appropriate technology and food growing. This is story is both a moving and witty account of realising a lifetime's dream, and a practical 'how to' manual for anyone who is able to 'lift a rafter'. Tony shares his skills and techniques from the process of visualising and designing a house to lifting the living roof, infilling the walls laying out rooms and adding renewable, autonomous technology. A must for anyone interested in low impact living and cordwood construction. Tony has a website where the eventual demise of his own beloved roundhouse in Wales will make you cry.

| | | |
| --- | --- | --- |
| | | |
| | Click on image to buy from Amazon.com | |

Building Green : A Complete How-To Guide to Alternative Building Methods by Clarke Snell , Tim Callahan, 2006. This absolutely groundbreaking manual doesn't just talk about eco-friendly building techniques, but actually shows every step! More than 1,200 close-up photographs, along with in-depth descriptions, follow the real construction of an alternative house from site selection to the addition of final-touch interior details. Co-authors Clarke Snell and Timothy Callahan (a professional builder and contractor) provide thorough discussions of the fundamental concepts of construction, substitutes for conventional approaches, and planning a home that's not only comfortable and beautiful, but environmentally responsible. Then, they roll up their sleeves and get to work assembling a guest house that incorporates four different alternative building methods: straw bale, cob, cordwood, and modified stick frame. The images show every move: how the site is cleared, the basic structure put together, the cob wall sculpted, the bales and cordwood stacked, a living roof created, and more. Most important, the manual conveys real-world challenges and processes, and offers dozens of sidebars with invaluable advice. It's head and shoulders above all others in the field.

| | | |
| --- | --- | --- |
| | | |
| | Click on image to buy from Amazon.com | |

La Maison de Bois Corde by Jack Henstridge and Francois Tanguay, 1979. Parmi les methodes de construction accessibles a l`amateur, celle du bois corde est certainement la plus efficace, la plus solide et la plus economique. Elle consiste, pour parler simplement, a corder des murs avec des buches de bois do 30 cms de long environ, soudees entre elles avec des joints de mortier. Cette technique, traditionnelle au Bas-Canada, a ete oubliee. La voici soigneusement reconstitutuee, avec preuves a l`appui, par deux auteurs qui ont construit leur propre maison de bois corde avec le plus grand succes, et a un cout qui n`atteint pas le quart de celui d`une maison ordinaire de meme dimension.

| | | |
| --- | --- | --- |
| | | |
| | Click on image to buy from Amazon.com | |

Timber Framing for the Rest of Us : A Guide to Contemporary Post and Beam Construction by Rob Roy, 2004. Many natural building methods rely upon the use of post and beam frame structures that are then in-filled with straw, cob, cordwood, or more conventional wall materials. But traditional timber framing employs the use of finely crafted jointing and wooden pegs, requiring a high degree of craftsmanship and training, as well as much time and expense. However, there is another way . . Timber Framing for the Rest of Us describes the timber framing methods used by most contractors, farmers and owner-builders-methods that use modern metal fasteners, special screws and common sense building principles to accomplish the same goal in much less time. And while there are many good books on traditional timber framing, this is the first to describe in depth these more common fastening methods. The book includes everything an owner-builder needs to know about building strong and beautiful structural frames from heavy timbers, including: the historical background of timber framing crucial design and structural considerations procuring timbers-including different woods and recycled materials foundations, roofs and in-filling considerations. A detailed case study of a timber frame project from start to finish completes this practical and comprehensive guide, along with a useful appendix of span tables and a bibliography. Highly illustrated, this book enables "the rest of us" to build like the professionals and will appeal to owner-builders, contractors and architects alike.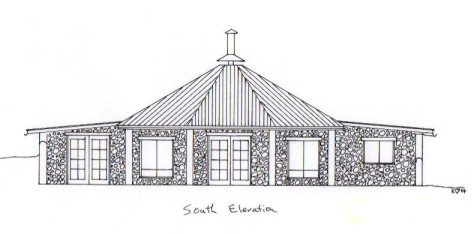 Sacred Mountains Kelly Hart, Designer

This is a 2 bedroom, 1 story, 1725 sf (to the outside) house that is designed around the traditional hogan concept of Southwestern native Americans. It would be dug into a hillside, or bermed substantially on the north side. A large south-facing living area with a vaulted cieling provides passive solar heating for much of the house. The bedrooms, bathroom, pantry and kitchen surround the traditional octagonal shape. This was originally designed for the Sacred Mountains Foundation as a demonstration home for a variety of natural building techniques, so that it employs cordwood, strawbale, adobe, rock, earthbag, and timber-frame aspects. The southern elevation shown here would be post and beam with cordwood infill. There is a unique central fire place, open 360 degrees, for back-up heat and ceremonial purposes. The large core room could accomodate large groups, or be utilized in many ways.
Traditionally, the native Americans enter their abodes from the east, so this where the airlock entry is situated. This large space can also serve as a closet and storage room. The large octagonal room is undifferentiated, but would serve as living, dining and ceremonial space. To the west is the master bedroom, with adjacent bathroom. To the left of the kitchen alcove is a large pantry that would be naturally cooled by its substantial earth berm. A second bedroom or studio faces the northeast. A large fenced courtyard area to the south provides privacy and wind protection.

For more information about this plan, and many others, visit our sister site www.dreamgreenhomes.com, where you will find a wide range of plans for sustainable homes, greenhouses, small buildings, garages, and food storage space for sale. Dream Green Homes is a consortium of outstanding architects and designers, who have pooled their talent and expertise for your benefit.
cordwoodmasonry.com Rob Roy's Earthwood Building School site, focuses on cordwood masonry and earth sheltering.
naturalhomes.org lists workshops from around the world that relate to cordwood construction.
daycreek.com a very informative, atractive and well designed site devoted to cordwood masonry and other forms of natural building.

sagemountain.org their page on cordwood construction.
midcoast.com a photogallery of a fine example of cordwood and rock masrony.
theownerbuilder.com.au an article about an Australian cordwood cabin.
home-n-stead.com is a blog about a cob/cordwood/timber frame home built in Michigan, with lots of nice pictures.
smallhouseliving.org a short article published in 1941 with a photo of a cordwood cottage.
daycreek.com has pictures and description of building a cordwood home at the White Earth Reservation in Minnesota.
daycreek.com is an article by the Flatau's about building a cordwood educational center.
thenauhaus.com features blog-style updates to the Building Green chapter on cordwood.
daycreek.com Cordwood Conference 2011 Summary + Photos held at the University of Manitoba, Winnipeg, Canada
picasaweb.google.com A photo gallery of a lovely cordwood Hobbit House.
inspirationgreen.com offers a lovely collection of cordwood cabins.
cordwoodconstruction.wordpress.com Richard Flatau's cordwood blog.