This program offers a wealth of information about construction details and other considerations. It covers adobe block construction, piled adobe (similar to cob), rammed earth, both load-bearing and post and beam strawbale, earthships, earth-sheltering, cordwood, thin-shelled concrete domes, papercrete, earthbags, hybrid structures, and recycling various containers for housing. To watch a streaming video introduction to this program, click here.
$29.95For a VHS videotape of this program go to the STORE.
The books shown below are arranged according to when they were published, with the most recent ones at the top. If you click on one of the images you will be taken to a page at Amazon.com where you can find out more about the book. If you end up buying one of them, greenhomebuilding.com will receive a small commission that will help cover the cost of maintaining this website. Thanks for your patronage.
Plans
Santa Fe I
Sven Alstrom , Designer

This one story Santa Fe Style ranch home has an attached two car garage and is based upon 24 inch wide straw bale (or adobe) construction on a concrete block foundation & concrete spread footings with crawl spaces and a partial basement. Though not designed as a passive solar house, it is designed for primarily hot weather climates. Natural interior plaster and natural exterior stucco are recommended. The interior square footage of the house portion is 2,336 square feet, measured on the inside of walls. In addition, the garage has 20 x 22 ft. clear inside dimensions. This home was originally designed for the main entrance to face east so that the kitchen is southeast for 'ayurvedic' benefits – the plan also works well with the garage on the north side or by 'flipping' the plan with the bedrooms on the south.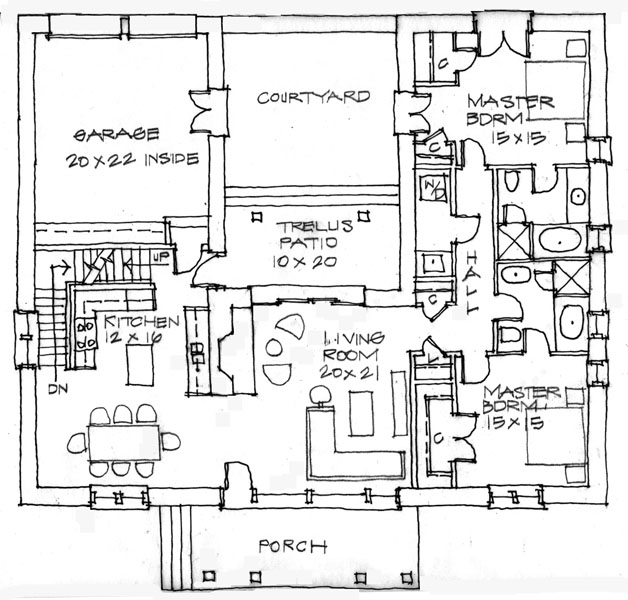 For more information about this plan, and many others, visit our sister site www.dreamgreenhomes.com, where you will find a wide range of plans for sustainable homes, greenhouses, small buildings, garages, and food storage space for sale. Dream Green Homes is a consortium of outstanding architects and designers, who have pooled their talent and expertise for your benefit.
Informative Links
adobebuilder.com Adobe Builder Magazine offers media, classes and information about adobe and rammed earth.
adobealliance.org Simone Swan's Adobe Alliance promotes earthen architecture, especially that inspired by the work of Hassan Fathy, through information and workshops.

naturalhomes.org lists workshops from around the world related to adobe building.
earth-auroville.com Auroville in India has been working with various aspects of earthen architecture and has much to share.
eartharchitecture.org features information and sponsors workshops on all types of earth building.
davidsheen.com features a wonderful collection of pictures of earthen sturctures from around the world. (If Firefox doesn't work, try another browser.)
mudcrafters.com specializes in adobe floors and earthen plasters, with lots of pictures and descriptions.
fawebster.com Fred Webster Associates has posted some excellent articles on adobe codes, structural defects, and earthquake damage to historic buildings.
claymineadobe.com a commercial stabilized adobe brick manufacturer with references for archtiects, schools, etc.
theownerbuilder.com.au an article about a "muddie" or adobe block home in Australia.
terrabuilt.com manufacturer of a compressed earthen brick machine that has a key/lock system eliminating the need for mortar.
adobebuilding.com describes a unique system for molding stabilized adobe bricks...they also occasionally sponsor workshops.
beyondadobe.com features a nice gallery of photos of adobe projects they have built in the Southwest U.S.
lavoutenubienne.org describes an African adaptation of adobe vaulted roof structures.
sukita.com an image gallery of adobe floors
iitk.ac.in/nicee this PDF document describes a simple, inexpensive method of reinforcing adobe buildings with plastic mesh for earthquake resistance.
velacreations.com instructions for making stabilized compressed earth block floors.
jinriki.blogspot.com How to make a traditional Japanese tamped earth floor.
docs.google.com is an Interlocking Soil/Cement Compressed Earth Block Feasibility Study
nicaraguapuebloproject.org and facebook.com/PuebloProject describe how adobe building in Nicaragua empowers women.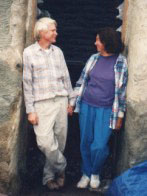 For Email contact go to About Us
Established in 2001, GreenHomeBuilding.com is primarily a labor of love. Kelly, and the GreenHomeBuilding team of experts, have answered thousands of questions for readers over the years, and we continue to publish up-to-date information about increasingly important sustainable architecture. If you feel moved to assist us in this work, your kind donation would be much appreciated; this can be easily done through our PayPal account:
Custom Search
Disclaimer Of Liability And Warranty
I specifically disclaim any warranty, either expressed or implied, concerning the information on these pages. Neither I nor any of the advisor/consultants associated with this site will have liability for loss, damage, or injury, resulting from the use of any information found on this, or any other page at this site. Kelly Hart, Hartworks LLC.