.
Use of Basalt Fiber

Dr. Nabil Taha has over 27 years of structural engineering experience. Prior to opening his own engineering firm in Oregon in 1997, he was a Professor of Engineering at Northern Montana State University and at Oregon Institute of Technology. He has structural expertise in a wide range of building systems and can answer questions related to virtually any common building method. His focus is on green design and he is always willing to trying something new. Dr. Taha is dedicated to future sustainability through innovation; he creates solutions for beautiful sustainable and safe structures by melding old and new technologies. He loves a good challenge. He is Licensed in twenty three states and can design buildings and/or consult to assist with structural permitting in these states as well as internationally. As a prior College Professor, Dr. Taha is a teacher at heart. He loves to share his knowledge and offers educational seminars and trainings for the do-it-yourselfers and professionals alike. Dr. Taha's goal is to continue to grow and provide knowledge and services for those trying to make their dream project a reality. No project is too big or too small. For information about Dr. Nabil Taha and his engineering firm see www.structure1.com
Comments
Comment about using Basalt fibers: In order to get my dome presentable for sale, I have been getting ready to stucco it. I have all the basalt fibers I imported and was playing with mix design. Most recomendations are along the lines of 4 oz a cubic foot. I had heard rumours of much higher dosages in Asia so I did a very high dosage mix thinking it would be a joke. Amazing! While the stucco with normal fiber showed enhanced performance the very high dosage acts like another material. It seems to be able to flex; it takes impact. It fails in a ductile manner. It's light. Im going to do my exterior with it at 1/4". My mix:
47lbs of portland
2.5 lb 18mm basalt fibers
a cap ful of kelcrete
1 five gallon bucket of sand
Now I know this is a very rich mix and has no lime, but I am very impressed with it at 1/4 ". You are using the mud for a binding agent for the considerable surface area of the fiber. I bet its vapor permeable at 1/4". It feels much different than stucco. It will not pump in my little pump.
The basalt fibers dont like to seperate very well. Polypropylene fibers are much better in this regard, at least for the basalt fibers I have. The only way I've been able to get them to seperate is with very sticky mixes. They distribute well but don't seperate into individual fibers if mixed in a non stick mix. Luckily the mix above is quite sticky. I mix it a half hour after I add the fibers.
Do your own due diligence, but I'll tell you I'm impressed enough to put this on my dome which I love dearly.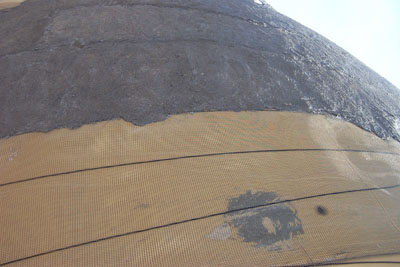 Comment: Thought I would follow up on the basalt adventure. This picture is of the basalt mesh underlayment. I ran polypropelene rope under it for partial drain planes. I continue to be impressed with the high basalt fiber dosage coating. It is a very very strong coating. It remind me of working with a synthetic like fiberglass. One piece of info I gave you earlier was incorrect. I learned how to get the plastisizer and water content right and ended up liking a 5 minute mix time with the fibers. If its a nice slimy mix they will pull apart as much as they are going to in that time. I ended up liking them a bit undermixed rather than over mixed.