.
Employment in Green Building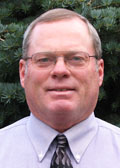 Mark Moore graduated from Texas A&M University with a major in Agri-Business and minor in Economics. He has 25 years of banking and lending experience in all aspects, including home mortgages. He has done lending in Texas, New Mexico and Colorado and is currently Senior Vice President of Collegiate Peaks Bank in Salida, Colorado. Collegiate Peaks Bank is the largest home construction lender in the Upper Arkansas River Valley, where they try to make it easy for the borrower from construction to permanent. They place permanent mortgage financing with Affliliated Financial Group and Skyline Financial Group. They are the only bank in that region that will do financing on alternative housing. They currently have four offices, two in Chaffee County and two in the Denver area.
Questions and Answers
Q: How much gainful employment work is available in computer drafting for conscious and environmental construction? I have a plentitude of real world experience in mainstream modern construction and engineering and I have a resume that reflects all this. It is my dream to be part of something more conscious. How much steady work is available in this field for someone with my background and experience?
A: (Kelly) It seems to me that the most likely sort of work for you, given your particular talents and experience, would be with an established architectural firm that specializes in green design. There are more of these than you might suspect. One place to start looking would be in the classified listings in magazines like "Natural Home and Garden"...or do a google search on green architects.