A visit to Karacadir
When we recently passed through San Miguel de Allende in Mexico, we wanted to connect with Andy Watson and Dorothy Gerhart, who run Karacadir, a sustainable development learning center. We first met them a couple of years ago when we were in the area, and were impressed with their dedication and vision for establishing this center.
They have continued to pursue this vision, and today have established much firmer roots on the large tract of land that they have purchased. They have planted many trees, created a covered outdoor kitchen, set up their black wool nomad's tent, built several small earthbag structures as as training exercises, designed and built a solar-heated hot tub, established a working humanure composting system, set up a pop bottle, solar UV/heat treatment system to purify their water, and now have two donkeys to provide manure for their organic garden.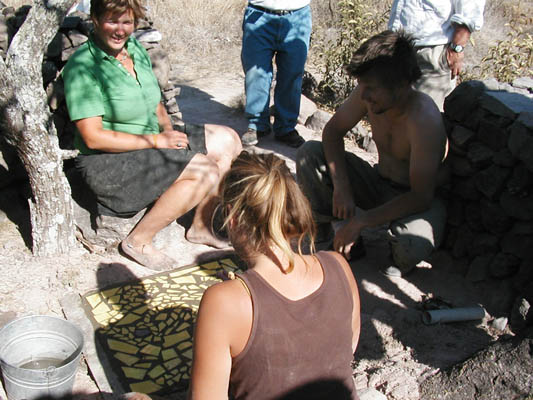 Much of the work in creating these facilities has been provided by both workshop attendees and "Wwoofers" (Willing workers on organic farms", who come to spend a few weeks working in exchange for room (tent) and board. I met some of these folks, who were happily creating a small base for the compost toilet, using shards of tile imbedded in cement.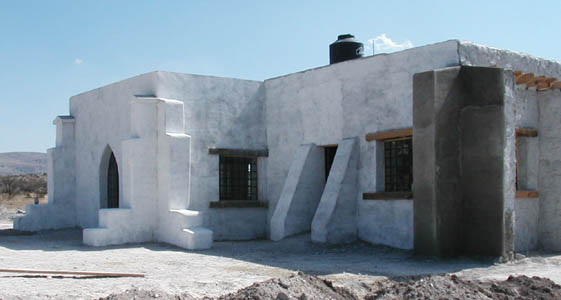 Dorothy and Andy also showed me a house that they had been advising the owners about how to go about building with earthbags. The building was nearly complete, and beautiful with much of the final plaster having been applied. The earthbags they used were quite large (about 2 feet wide when filled), so the feeling of the structure was rather massive. Such thick walls tend to make for very comfortable living in this fairly moderate climate. The bags were filled with a local soil often used as a road base, which they moistened slightly before filling the bags, and then tamped into a rather solid material. The owners are delighted with the results of this project.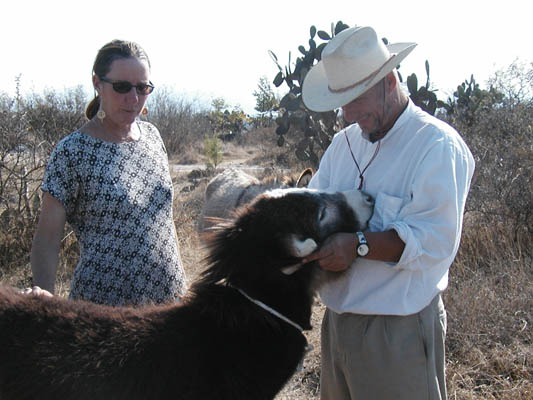 Over all, I was pleased to see the progress of their dreams at Karacadir, and the extent that they have been accepted by the local community, both personally and institutionally. The work that they are doing will make significant differences in skills that people will bring to their own projects and in the attitude that folks that come in contact with them have toward sustainable development. For more information about Karacadir or to sign up for their many workshops, visit
www.karacadir.com
.