The books shown below are arranged according to when they were published, with the most recent ones at the top. If you click on one of the images you will be taken to a page at Amazon.com where you can find out more about the book. If you end up buying one of them, greenhomebuilding.com will receive a small commission that will help cover the cost of maintaining this website. Thanks for your patronage.
Informative Links
yurtinfo.org Becky Kemery's thorough and informative site devoted entirely to yurts, including their history, design, and how to build or buy them.
yourtent.com Yurt design, construction and sale.
rdrop.com The story of building a Pacific yurt.
weatherport.com has yurt and tiny living tips from experts.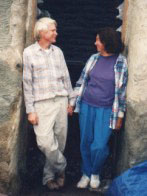 For Email contact go to About Us
Established in 2001, GreenHomeBuilding.com is primarily a labor of love. Kelly, and the GreenHomeBuilding team of experts, have answered thousands of questions for readers over the years, and we continue to publish up-to-date information about increasingly important sustainable architecture. If you feel moved to assist us in this work, your kind donation would be much appreciated; this can be easily done through our PayPal account:
Custom Search
Disclaimer Of Liability And Warranty
I specifically disclaim any warranty, either expressed or implied, concerning the information on these pages. Neither I nor any of the advisor/consultants associated with this site will have liability for loss, damage, or injury, resulting from the use of any information found on this, or any other page at this site. Kelly Hart, Hartworks LLC.