The books shown below are arranged according to when they were published, with the most recent ones at the top. If you click on one of the images you will be taken to a page at Amazon.com where you can find out more about the book. If you end up buying one of them, greenhomebuilding.com will receive a small commission that will help cover the cost of maintaining this website. Thanks for your patronage.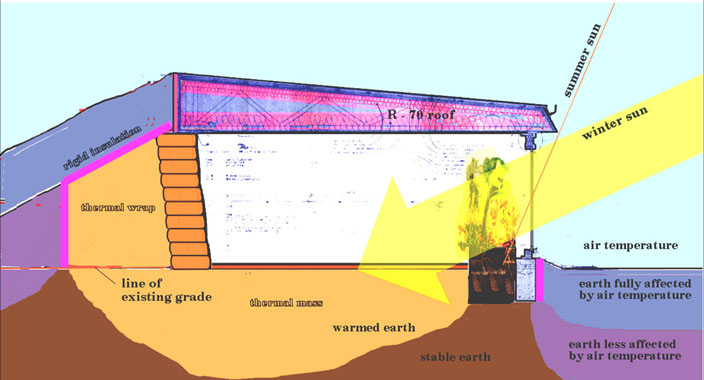 This 2 bedroom, 1 bath, 1118 sf Packaged Earthship design demonstrates passive solar heating, solar energy collection through photovoltaics, water catchment, and sewage treatment. The width of each room is flexible, as is the length of the entire shell. Each Earthship includes an interior planter which allows the resident to use fresh water at sinks and shower, send it through the interior grey water planter to feed the plants which in turn clean the grey water as well as produce oxygen, flowers and sometimes food, then the remaining water can be used to flush the toilet. The black water from the toilet is sent outside to a conventional septic tank and then into a contained drainfield where the moisture provides landscaping. The load bearing walls in the home have been built by ramming earth into used automobile tires. Interior walls are built using recycled cans.
For more information about this plan, and many others, visit our sister site www.dreamgreenhomes.com, where you will find a wide range of plans for sustainable homes, greenhouses, small buildings, garages, and food storage space for sale. Dream Green Homes is a consortium of outstanding architects and designers, who have pooled their talent and expertise for your benefit.
Informative Links
General
consumerenergycenter.com good overview of passive solar concepts.
New Mexico Solar Energy Association description of passive solar concepts.
homeadvisor.com describes eco-friendly ways to dispose of home renovation debris.
personalcreations.com lists over 200 household items that can be recycled with suggestions for how to go about it.
patiofurniture.com Sustainability Guide for Recycling & Donating Furniture and Appliances
Stores and Outlets
habitat.org/env/restores Habitat for Humanity ReStores sell recycled building materials.
buildingresources.org Recycled building resources in the San Francisco Bay Area.
thereusepeople.org Buys and sells used building materials in Oakland, CA, Boulder, CO and Seattle,WA.
oldwoodworkshop.com sells reclaimed lumber and architectural features.
frtirerecycle.com this company sells huge bales of recycled tires that have been used for various building projects.
wholeloglumber.com sells a range of recycled wood flooring materials from North Carolina.
oldewoodltd.com features reclaimed wide plank flooring and antique hand-hewn timber.
Directories
recycle.net worldwide recycling directory.
Deconstruction
nytimes.com an article, titled "This Old Recyclable House" weighs the pros and cons of the modern deconstuction industry.
TheBarnPages.com You can buy and sell used barns all over the U.S. from this site.
reuseconsulting.com is a blog-style site about the deconstruction industry.
mesothelioma.net describes how to safely deal with asbestos when deconstructing houses.
Container Buildings
sgblocks.com describes a system for reusing steel shipping containers to build residences up to several stories high.
cnn.com an article with embedded video and photos about shipping copntainer homes.
Products
staplescabinetmakers various pieces of furniture are made with lumber reclaimed from New England buildings.
earthstonetechnology.com takes recycled glass bottles and turns them into a variety of useful products.
AppliancePartsPros.com carries thousands of parts for all sorts of appliannces and features part photos, diagrams, and live help.
ignagroup.com manufacture blocks and pavers from lignastone and timbercrete made with timber waste products.
stonecycling.com Creating building materials from 100% upcycled waste, with a positive carbon impact on our planet.
Houses from Recycled Material
krepcio.com/vitreosity a pictorial presentation of many lovely and amazing bottle construction projects/art.
paperhouserockport.com describes an entire house made mostly of old newspapers, furniture and all.
inspirationgreen.org has a wonderful collection of pictures of houses made from plastic bottles.
buildsimple.org describes how plastics and unwated agricultural waste can be baled for building walls.
trueactivist.com a nice article about how Nigerians are building homes with plasic bottles filled with earth.
purelivingforlife.com this blog is by a couple who are building an off-grid homestead, mostly from recycled materials.
Remodeling
buildinggreen.com an article about the importance of retrofitting existing homes for energy effciency.
raleighrealtyhomes.com A Room-by-Room Guide to Eco-Friendly Home Modifications and Renovations
Videos
youtube.com this video shows how some plastic bottles were used to create a wall.
youtube.com video about using recycled pop bottles for daylighting.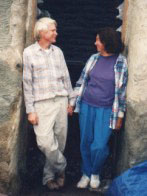 For Email contact go to About Us
Established in 2001, GreenHomeBuilding.com is primarily a labor of love. Kelly, and the GreenHomeBuilding team of experts, have answered thousands of questions for readers over the years, and we continue to publish up-to-date information about increasingly important sustainable architecture. If you feel moved to assist us in this work, your kind donation would be much appreciated; this can be easily done through our PayPal account:
Custom Search
Disclaimer Of Liability And Warranty
I specifically disclaim any warranty, either expressed or implied, concerning the information on these pages. Neither I nor any of the advisor/consultants associated with this site will have liability for loss, damage, or injury, resulting from the use of any information found on this, or any other page at this site. Kelly Hart, Hartworks LLC.