The books shown below are arranged according to when they were published, with the most recent ones at the top. If you click on one of the images you will be taken to a page at Amazon.com where you can find out more about the book. If you end up buying one of them, greenhomebuilding.com will receive a small commission that will help cover the cost of maintaining this website. Thanks for your patronage.
Plans
Solar Oval One
John Fordice, Architect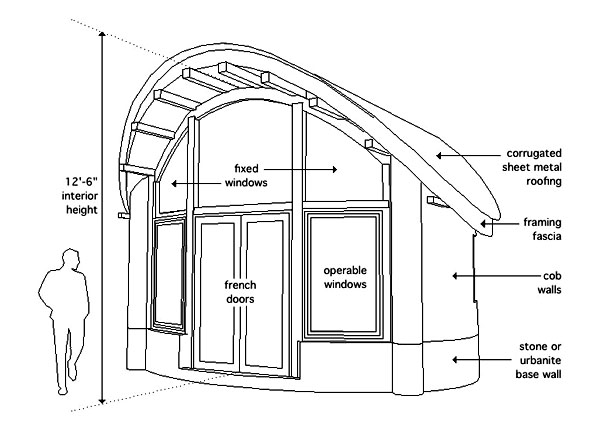 SOLAR OVAL ONE is a compact  passive solar design with a loft which can be an outbuilding for many possible uses.  It has many valuable and green/sustainable features:
Potentially able to be constructed without a building permit

Cob wall construction 

An impervious base wall below the cob for moisture protection of the cob

A South facing wall of windows and french door for passive solar heating

An earthen floor for solar mass and economy of construction 

An interior cob bench for built-in seating and rocket mass heater

A built-in desk or kitchenette area with side storage niches

A north wall closet for storage space and insulation

Small East and West end side windows for views & area lighting

A sleeping loft accessible by a built-in ladder

Roof framing which needs only minimal small dimension lumber 

The roof framing can be easily adapted to your insulation needs

A corrugated sheet metal roof

The structure is designed to include seismic stability components

A pleasing curved design 

Low cost if you build it yourself
Building with cob allows the use of local sustainable materials.  In many areas the earth at your site can be used and only water, sand and straw will need to be brought to your site to make your cob.  The cob is mixed right where you are building and stacked up on an impervious foundation. There are no forms needed to make a cob building.  Curving sculptural walls are easily created.  Your imagination is set free when you build with cob.
For more information about this plan, and many others, visit our sister site www.dreamgreenhomes.com, where you will find a wide range of plans for sustainable homes, greenhouses, small buildings, garages, and food storage space for sale. Dream Green Homes is a consortium of outstanding architects and designers, who have pooled their talent and expertise for your benefit.
Informative Links
General
cobcottage site for The Cob Cottage Company features information and resources about building with cob.
earthedworld.co.uk a fine, informative site about cob, listing workshops, forums, and an extensive photo gallery.
clay-works.com informative site with lots of pictures of various cob projects in Cornwall, England.
cobcode.org The Cob Research Institute advocates for cob codes.
mudandcompassion.weebly.com You can download a free copy of this book by Muddy Muriel: Building with Mud for a More Compassionate World
Education
strawclaywood.com is Michael G. Smith's very informative and inspirational site devoted to various natural building methods, including cob.
cobworkshops.org lists many workshops featuring cob in North America.
naturalhomes.org lists workshops from around the world, some of them related to cob.
earthedworld.co.uk a fine, informative site about cob, listing workshops, forums, and an extensive photo gallery.
cobworks.com information, photos, workshops related to cob.
housealive.orgThis site is mostly focused on cob, and offers information and workshops that "empowers people to build affordable homes that are responsible and beautiful through the use of natural design and building techniques."
mudgirls.ca A women's cobbing cooperative in Canada that offers workshops, etc.
theyearofmud.com offers workshops, information and a blog about a variety of natural building techniques, including cob.
thiscobhouse.com features tutorials, online classes and workshops for cob building.
Discussion

coblist email discussion group about cob.
Photo Galleries
davidsheen.com features a wonderful collection of pictures of earthen sturctures from around the world. (If Firefox doesn't work, try another browser.)
clay-works.com gallery of various cob projects in Cornwall, England.
cobprojects.info join a cob forum or browse lots of pictures and sites devoted to cob projects.
ilovecob.com This blog-style site has assembled lots of images of natural building projects, commentary about them, links to related sites, and even video via YouTube that tours a lovely cob creation.
cobtogether.com some nice pictures of cobworks.
earthenhand.com has a nice gallery of various cob work by Scott Howard.
designboom.com describes some beautiful cob domed buildings from the Masgum in the Camaroon.
cobbuildingwithmaya.com is a well illustrated blog about building a bale/cob house.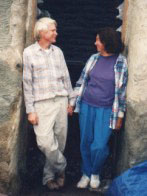 For Email contact go to About Us
Established in 2001, GreenHomeBuilding.com is primarily a labor of love. Kelly, and the GreenHomeBuilding team of experts, have answered thousands of questions for readers over the years, and we continue to publish up-to-date information about increasingly important sustainable architecture. If you feel moved to assist us in this work, your kind donation would be much appreciated; this can be easily done through our PayPal account:
Custom Search
Disclaimer Of Liability And Warranty
I specifically disclaim any warranty, either expressed or implied, concerning the information on these pages. Neither I nor any of the advisor/consultants associated with this site will have liability for loss, damage, or injury, resulting from the use of any information found on this, or any other page at this site. Kelly Hart, Hartworks LLC.