.
Building with Tire Bales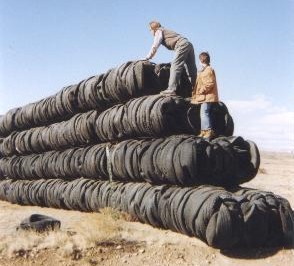 Michael Shealy in conjunction with Leonard Jones, P.E., has been designing structures using tire bales. These are massive bales made by compressing about 100 tires into a 5' wide x 6' long x 2.5' high block and banding them with heavy duty (~3/16") stainless steel wire. Each bale weighs about 2000 lbs. They can be used as giant building blocks to put up walls or columns in a building. The footprint is very large and even though the weight is quite a bit more than a conventional house, a foundation is not needed... Just excavate the existing soil, level and compact it, and start stacking tire bales... The only restriction is that you ought not to start stacking these on organic or expansive soil.
Once you have the bales stacked, you add a bond beam - more as a place to fasten your roof structure than as a means to hold the building together. Then you stucco/plaster the exterior or interior, either by hand or by gunniting. When the wall is stacked, there are some considerable voids between the bales which should be stuffed with insulating material before the building is stuccoed/platered...
The bales are very strong. One bale was tested on a giant compression testing machine at the Colorado School of Mines (CSM). It resisted compression with very little deformation until one wire broke at a load of 600,000 + lbs and they concluded the test.
The bales have not been tested for thermal conductivity or heat capacity, although a group of students at CSM attempted to model thermal conductivity based on the tire bale constituents. It will be interesting to see how a house built from tire bales works in "real life."
The pictures were taken at the tire baling facility near Fountain, CO... just south of Colorado Springs. The folks on the bales are Mike Shealy and his grandson. The wall is 4 bales high (10 foot).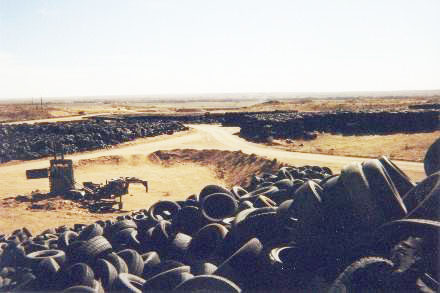 This picture clearly illustrates that there is no shortage of this resource. The distant black-colored areas are thousands of tire bales. The area in the foreground contains a tire-baling press and tens of thousands of loose tires.
Mike Shealy wrote: "In 1998, I was contacted by the folks at Midway Tire Recycling, having found that I was doing (generic) rammed-earth tire-house designs, and asked if I would be interested in the tire bale as a building block for residences? I took a drive down to Fountain to see them and immediately WAS interested. The Houtchens, Vernie & Ann, wanted to build their own home on their property by the tire recycling facility. After some discussion, I suggested they create an engineering document for the tire bale, ie, test results, statements of practical & comparable bearing loads, coefficient of friction and insulation values, from actual tests. This document, I told them, could/would be used in all future building using T-bales as a *bearing* building material. They told me that the T-bale wasn't *suitable* as a unit in a load bearing wall and presented me with a study done by CSMines students that concluded the same, based purely on the fact that they continue to compress as pressure is increased. This study gave no attention to the actual loads that would be developed from framing a roof on them, hence it was not practical.
They asked me who would create this document and I suggested Tom Griepentrog, the engineer who created the rammed-earth-tire-wall document for the Dennis Weaver home. Tom quoted a very thorough procedure, acceptable to me and probably future engineers. This document would make it easy for all future engineers to verify the stability of the T-bale as a berm/bearing wall for use in residences ...BUT... The Houtchens apparently had different ideas, didn't like the price for the document ($8,000), and they dumped me (& Tom) and elected to go to a non-engineered use of the T-bales, as purely *infill*, as in straw bales, using a steel post & beam structure instead. This was unacceptable to me, as it gave nothing to future uses. So, until 2002 when I 'met' Leonard on an alternative building mailing list, I just held the idea between my ears, but since meeting him have had four commissions to design T-bale homes."
Structure1.com is an engineering firm that can help with engineering tire bale buildings. They have prepared a PDF sample of full drawings for a Tire bale home and a document explaining tire bale construction.